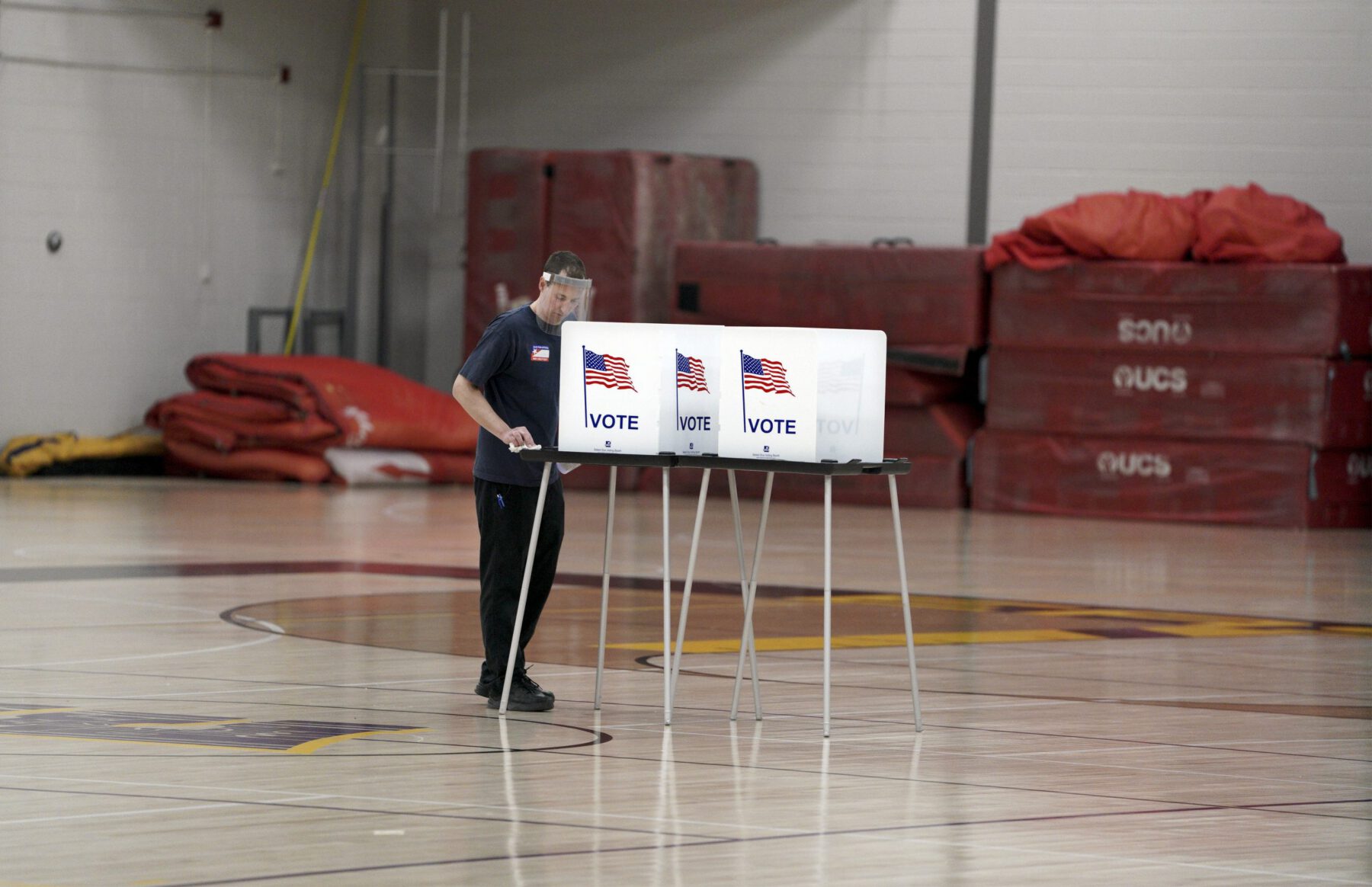 Doug Milks disinfects voting booths after being used as voters, ignoring a stay-at-home order over the coronavirus threat, cast ballots in the state's presidential primary election in the gym at East High School, Tuesday, April 7, 2020 in Madison, Wis. (Steve Apps/Wisconsin State Journal via AP)
Doug Milks disinfects voting booths after being used as voters, ignoring a stay-at-home order over the coronavirus threat, cast ballots in the state's presidential primary election in the gym at East High School, Tuesday, April 7, 2020 in Madison, Wis. (Steve Apps/Wisconsin State Journal via AP)
Some in PA remain confused over mail-in election process
There's still plenty of time to make your vote count, and more ways to do it, election officials say
~
By Ramesh Santanam
With the election less than a month away and elections offices handling an unprecedented number of requests for mail-in ballots, Western Pennsylvania voters continue to remain anxious about applying for and receiving mail-in ballots and ensuring those ballots count.
Lillian Reeher of Grove City, a town of 42,000 about 60 miles north of Pittsburgh, told Postindustrial this week she was still waiting for her ballot after applying for it in early August.
"Two months for me, and nothing. My friends applied in March and June and have not gotten them," Reeher said, adding she had checked her ballot status online and was told by the Mercer County Voter Registration and Election Bureau she would be getting hers in mid-September.
Thad Hall, Mercer County elections director, said Wednesday that about 15,000 ballots were being mailed to voters this week. About 72,500 people had registered to vote in the county as of Monday, according to the Pennsylvania Department of State.
Hall said Reeher and others "will have a month to get ballots back." Ballots must be postmarked by Nov. 3, and received by Nov. 6 to be counted, according to state officials.
Hall was not surprised more people requested mail-in ballots for the Nov. 3 election than for the June primary. 
"People care much more about the general election than the primary," he said.
He also isn't worried about the influx, having previously run the elections department in Coconino County, Ariz., where about 75 percent of voters cast their ballots by mail, he said.
"It's not going to be an issue," Hall said. "My board of supervisors has been very supportive. We have plenty of staff. I have staff working overtime, but I always have staff working overtime during an election. There's nothing unique about that. We have a lot of work, but we're not overwhelmed."
His department has five full-time and about eight part-time employees, Hall said.
Meanwhile, voters in Allegheny County, which encompasses the City of Pittsburgh, have reported several issues and concerns through ProPublica's Electionland project which covers problems related to voting; Postindustrial is one of a coalition of newsrooms across the country investigating those tips.
Some of the concerns reported to Electionland, and reviewed by Postindustrial, with response from county officials:
Some voters who received mail-in ballots asked if they could, instead, still vote in person at their polling stations on Nov. 3.
Amie Downs, Allegheny County communications director, said voters must take their entire ballot packet, which includes the ballot and the enclosed envelopes, to the polling place and give it to the poll workers. The voter will then be asked to sign a form confirming surrender of the mail-in ballot and the desire to vote in person. The form also affirms the voter has not voted otherwise. Then, the voter will be allowed to cast the ballot in person.
Voters wondered about sending back their ballots without first putting them in the so-called "secrecy envelopes." The Pennsylvania Supreme Court ruled last month that counties can reject so-called "naked ballots." A voter also complained she did not receive a "secrecy envelope" and wondered what recourse she had.
Downs said: "It will depend on the circumstances and what our records show. The voters need to contact us directly. If a voter doesn't get a secrecy envelope, they should contact the office to request the same. They would not be issued a new ballot just because an envelope is missing."
Allegheny County voters can contact the elections department by calling 412-350-6500, or email the office at electionscontact@alleghenycounty.us.
Downs added all secrecy envelopes look alike and that she had no reports of any groups mailing out fake ballots.
A voter asked if she had any recourse after inadvertently voting for the wrong candidate on her mail-in ballot.
"No. That is her vote. Just like at a polling place, you cannot go back in and change your vote afterwards. You have already voted," Downs said.
As of Thursday, Allegheny County had approved more than 354,300 mail-in ballot applications, and had mailed 322,000 ballots. More than 102,750 voters have already cast their ballots by mail in the county. There are more than 925,600 registered voters in the county, according to state records.
The deadline to request a mail-in ballot in Pennsylvania is Oct. 27, a week before the Nov. 3 election.
Voters in Allegheny County can also drop off their mail-in ballots during specific times at secure drop boxes set up by the county at three of its parks, community colleges and other locations. They can be found here: https://www.alleghenycounty.us/elections/additional-election-offices.aspx
Mercer County's Hall said there aren't any "integrity issues" when it comes to voting by mail. 
"You have to have processes to secure ballots when they are returned. You have to be diligent when you are counting them," he said.
"This election, these issues may be new for Pennsylvania, but this is just another election," Hall said. "It's just new for people, it's just different, that's all."