Pat Soup does a front side air at Marilla Skate Park. (Photographs by Jay Davis)
Mountain State skaters
The skateboard culture of West Virginia
~
By Kristen Mohammadi | Photos by Jay Davis
---
Jackie Jeffries started skateboarding about 20 years ago and hasn't stopped since.
Jeffries, 36, got her first skateboard from a shop in Snowshoe, an hour away from her hometown in Braxton County, population about 14,000. There wasn't a designated spot for skateboarders, and so she furthered her skating grinding on concrete ledges in the parking lot of a bank.
Today, she's leading an effort to fund renovations at Marilla  Skate Park in Morgantown, where she lives.
"This project is not just about me," she said. "It's about the entire community. So the way I approach this is with no doubt that it will be accomplished."
West Virginia may lack the incentive to invest in skateparks because of the hilly terrain and the stereotype that skateboarding is mainly popular in cities. Yet, some people argue that skateboarding should be increasingly accessible, as outdoor activities are a safe way to gather with friends while the country practices social distancing during the pandemic.
Skaters across West Virginia have successfully led some city councils to build or renovate skate parks in their towns. For example, a committed group persuaded leaders for the City of Parkersburg to a skatepark in 2011.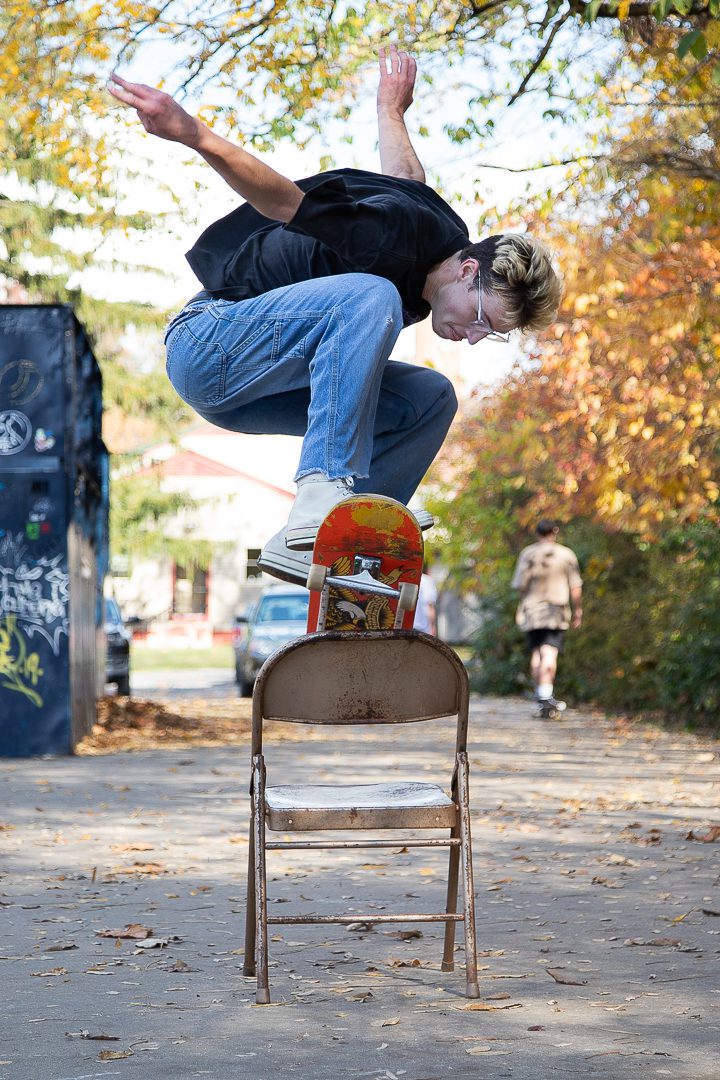 Mason Sears skating at Marilla Skate Park.
West Virginia may not be known for its skate culture. Yet, skate culture in the state is rising, leading to an increase in West Virginia skate brands and skateboarders. 
Rolling up to Marilla Skate Park in Morgantown, you'll often find a welcoming yet tight-knit community of skateboarders. 
The park sits adjacent to other outdoor community spaces like a swimming pool, tennis courts, and playgrounds. It consists of a pyramid, a half-pipe, rails, boxes, and more.
Marilla Park reshapes itself with community DIY obstacles. For many Morgantown skaters, the park is a haven.
Jeffries noticed there were no benches for parents to sit in, and all the obstacles were at minimum heights. Renovations would make the skatepark more inclusive, she said.
"If we have a bowl, for example, we have the ability to let people that are a bit older skate with ease, because it's a bit easier on your body than trying to grind rails," Jeffries said. 
She and other skaters approached Morgantown Board of Parks and Recreation in 2019 with a plan to upgrade features for skaters.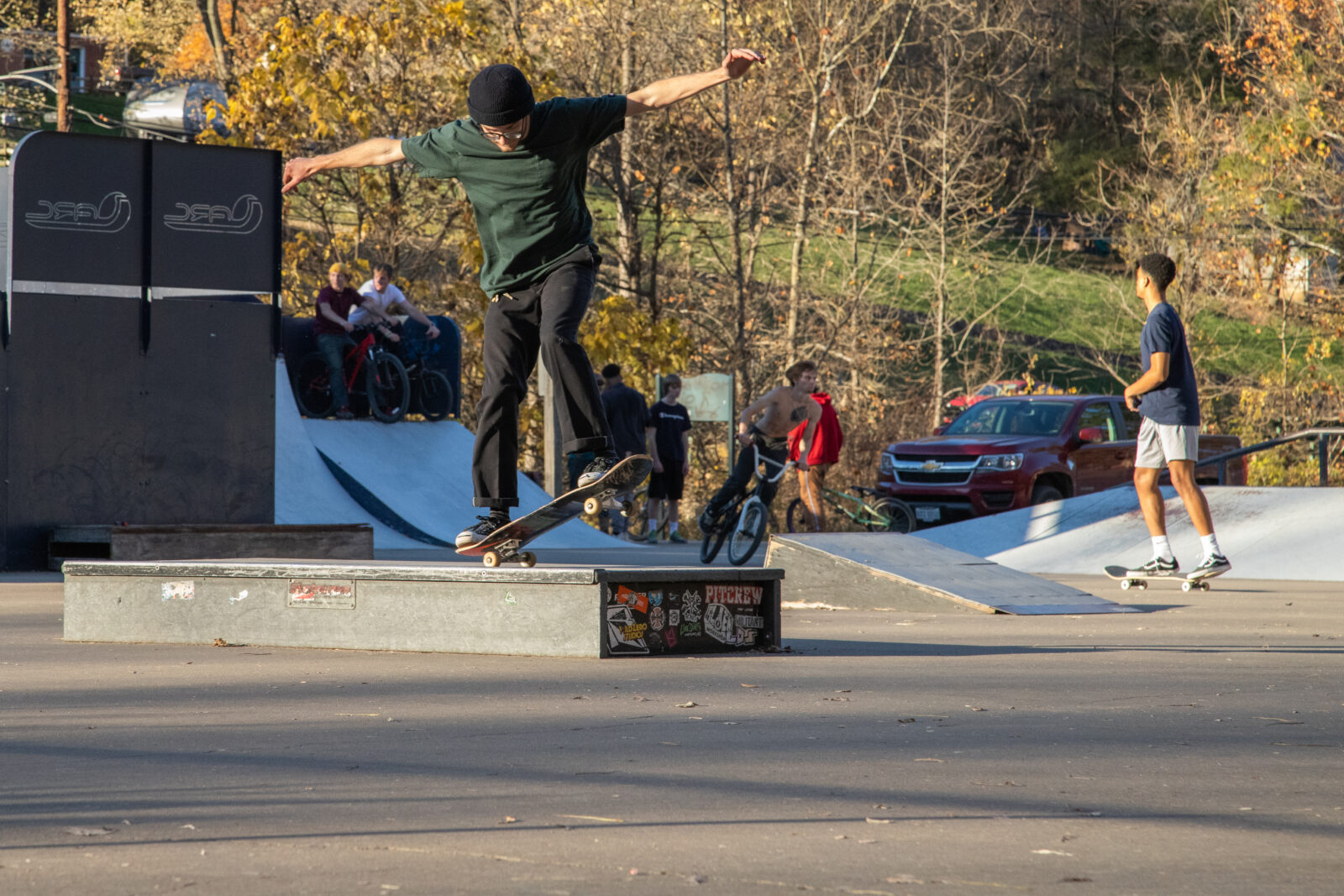 Tyler Grogg skates a DIY box made by some of the park locals.
However, the board isn't in a position to fund improvements right now, as funding was cut as a result of the COVID-19 pandemic, director Melissa Wiles said.
"That was an unanticipated loss that impacted the whole system," Wiles said.
Jeffries said she is considering drafting a plan to build a community-funded skateboard in another location.  
In Parkersburg, Adam Deems, 30, helped lead the charge to build a skatepark in his hometown. 
Deems and a group of skateboarders started a nonprofit organization to fundraise and advocate for a park in Parkersburg.
"We didn't have a skatepark forever, so basically we just went around for like 10 years doing car washes, donations, just getting as much money as we could together to get our skatepark here," Deems said.
Funding for the park took off after a local skateboarder died after being hit by a car while on his skateboard.
"When that happened, it was very unfortunate but it's like, that's basically how we got to the park," Deems said. "Because before that, money was slow, like we didn't have much money coming in. But it was like when that happened everyone around the town started dumping money into the organization for the skatepark."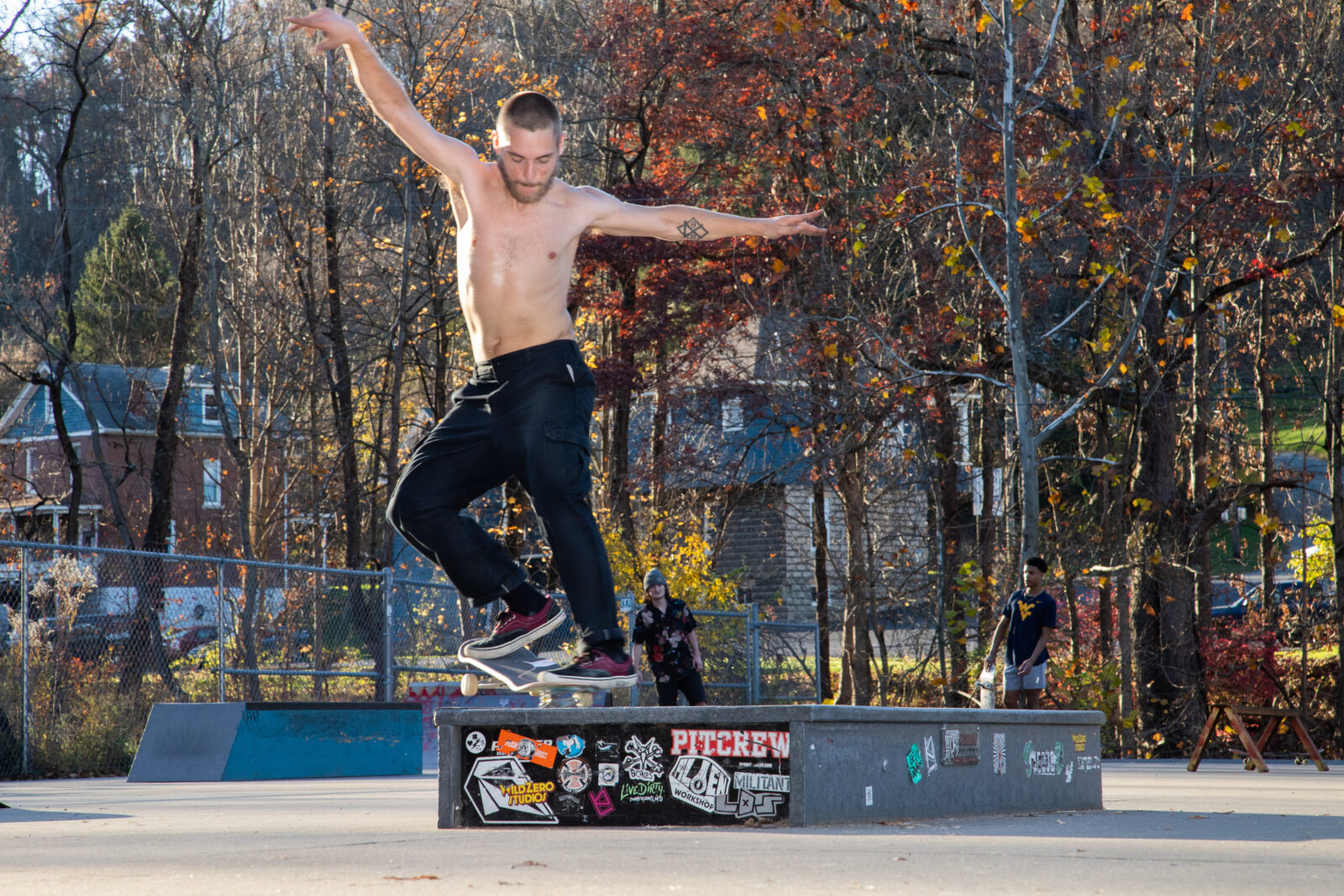 Ryan Hulmes does a backside crooked grind at Marilla Skate Park.
The organization raised about $350,000 through fundraising and grants, Deems said. They received $25,000 from The Skatepark Project, formerly the Tony Hawk Foundation, which helps to fund public skateparks. 
The Parkersburg skatepark is one of the largest in the state. Skaters come from all over the state to ride the park's large bowl, a feature many parks in West Virginia don't have.
Ryan Hulmes, 26, of Bridgeport, has been skating regularly for more than a decade, amassing enough popularity that he's now sponsored by Appalachian skate brands Apartment and Union Skate Supplies.
Apartment is an online skate brand from Charleston that sells apparel, skate accessories, and boards.
"It's really exciting to see something (like this) come out of West Virginia," he said.
"We didn't have a skatepark forever, so basically we just went around for like 10 years doing car washes, donations, just getting as much money as we could together to get our skatepark here."
Union Skate Supplies is located in Beaver, Pa. The company sells apparel, accessories, and boards. 
Hulmes describes his process of getting sponsored as skating a lot and making connections.
"I just know that I didn't ask for anything," Hulmes said. "And I just, like, had fun skateboarding. And then….people started hooking me up. And it's just cool."
His favorite park to skate is the Morgantown skatepark.
"It's just a good atmosphere," Hulmes said. "I feel like everybody just has a good time together. And Morgantown is probably the best example of that, that I've encountered in my life."
Kristen Mohammadi is pursuing her master's degree in journalism from West Virginia University. She is from Morgantown, W.Va. 
Jay Davis is a freelance photographer based in Leesburg, Va. He is a 2020 graduate of West Virginia University, with a degree in journalism. He hails from Reston, Va.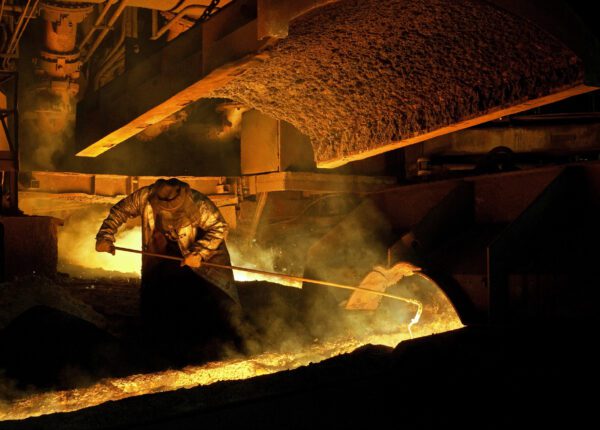 By Carmen Gentile // Photographs by Viktor Mácha