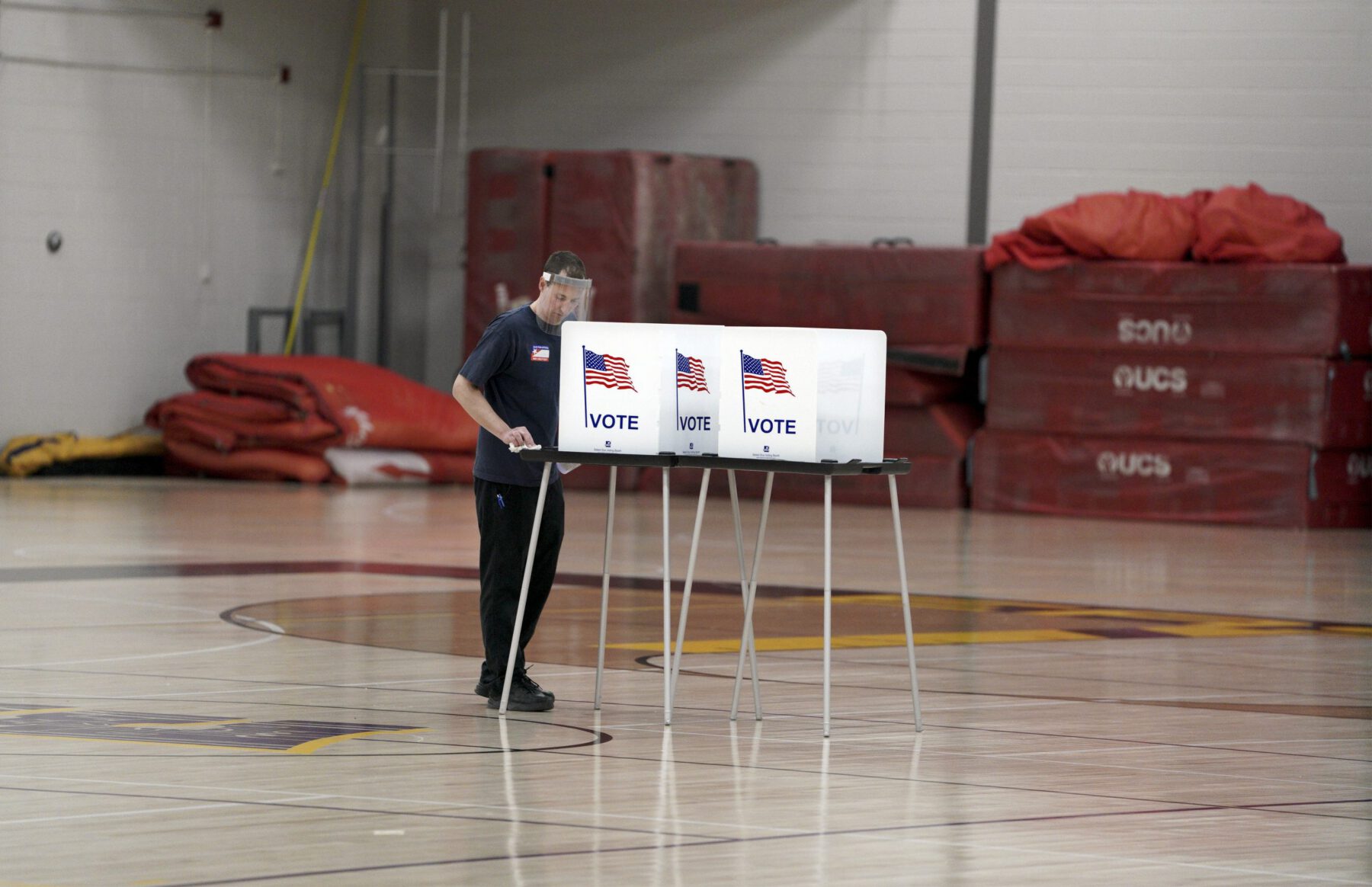 Doug Milks disinfects voting booths after being used as voters, ignoring a stay-at-home order over the coronavirus threat, cast ballots in the state's presidential primary election in the gym at East High School, Tuesday, April 7, 2020 in Madison, Wis. (Steve Apps/Wisconsin State Journal via AP)
Doug Milks disinfects voting booths after being used as voters, ignoring a stay-at-home order over the coronavirus threat, cast ballots in the state's presidential primary election in the gym at East High School, Tuesday, April 7, 2020 in Madison, Wis. (Steve Apps/Wisconsin State Journal via AP)
Having trouble voting? We want want to know
Postindustrial partner ProPublica's Electionland project has launched a tip line for people to report voting obstacles
~
By Staff
The right to vote in America is for everyone — but in a year that misinformation abounds we want to help you.
That's why Postindustrial is partnering with ProPublica, a national, nonprofit investigative media outlet on Electionland. This initiative asks people across the country to report tips about any problem they be experiencing related to voting.
Electionland has launched a tip line for eligible voters to report obstacles they encounter while attempting to cast their ballots this year. That information will add to and inform the Postindustrial's election coverage via Swing State, a special weekly newsletter.
Concerns may include, but aren't limited to: ballot delivery problems, harassment at the polls, changed voting locations, voter ID issues, COVID-19 concerns and misinformation. Here's how to report problems.
We will be on the lookout for any problems that prevent people from voting — such as mail ballot delivery problems, changed voting locations, long lines, registration problems, purged voter rolls, broken machines and voter intimidation. You can help us. To let us know how your voting experience goes, here's how to sign up and get in touch. 
SMS: Text the word VOTE, VOTA (for Spanish) or 投票 (for Chinese) to 81380 (standard text message rates apply). 

WhatsApp: Send the word VOTE, VOTA (for Spanish) or 投票 (for Chinese) to 1-850-909-8683. 

Facebook Messenger: Go to

m.me/electionland

. 

Complete

this form

to share your election experience with us so ProPublica and our partners can investigate.