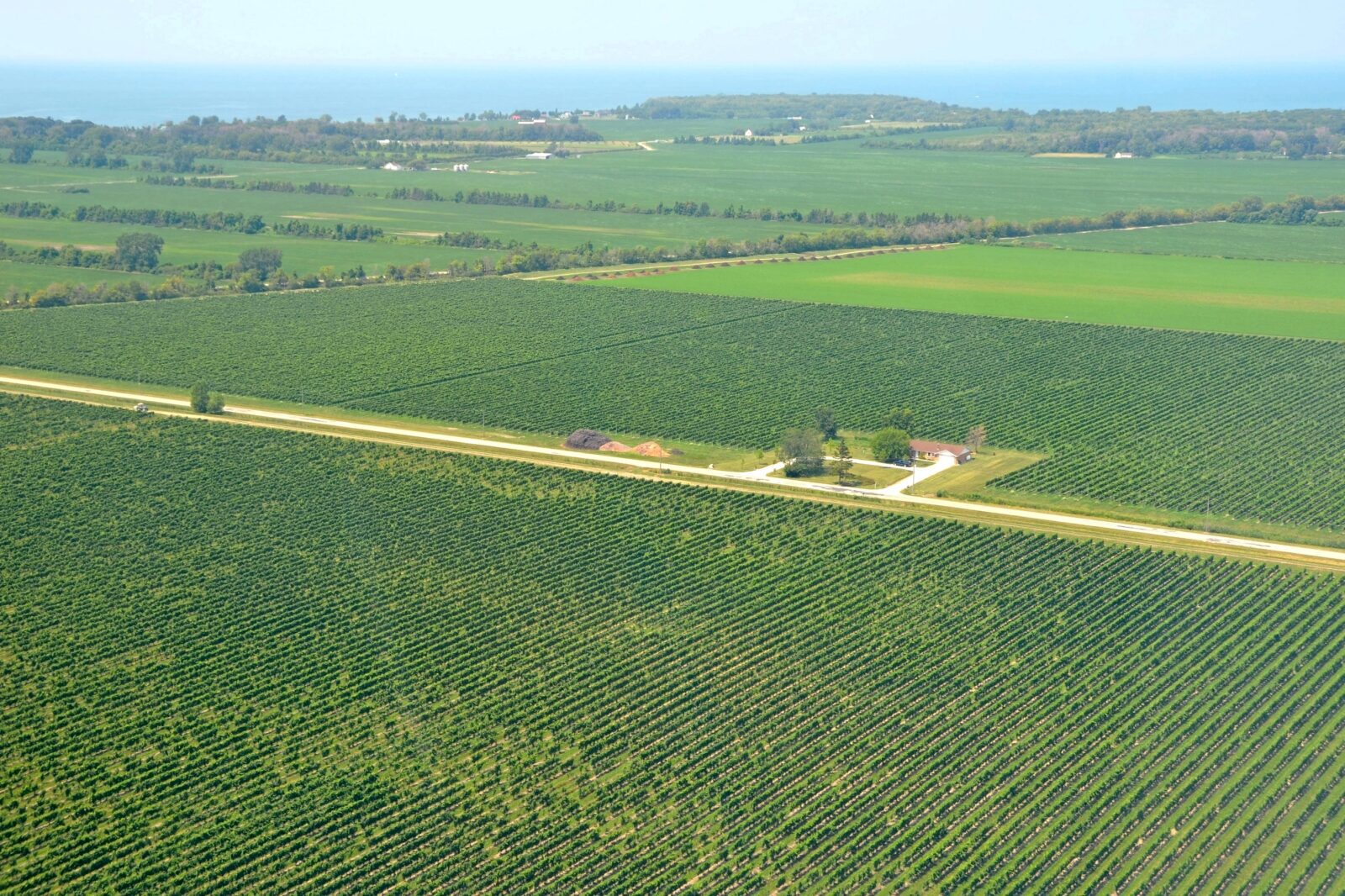 Aerial landscape, view across the vineyards of Pelee Island, Lake Erie in the background. (Shutterstock)
GET OUT: Stretch your legs, face your fears and consider our troubled past
~
By STAFF
---
You've been cooped up for a year and this past winter seemed like it would never end. But with the official arrival of spring comes renewed hope that we'll be able to get outside and enjoy moving about with less risk than last year.
Here are some suggestions for heading outdoors as COVID-19 cases recede … for now. There are also a couple of indoor activities. One will send shivers down your spine. The other makes you ponder how far we've come, and how far we've yet to go.
PENNSYLVANIA and NEW YORK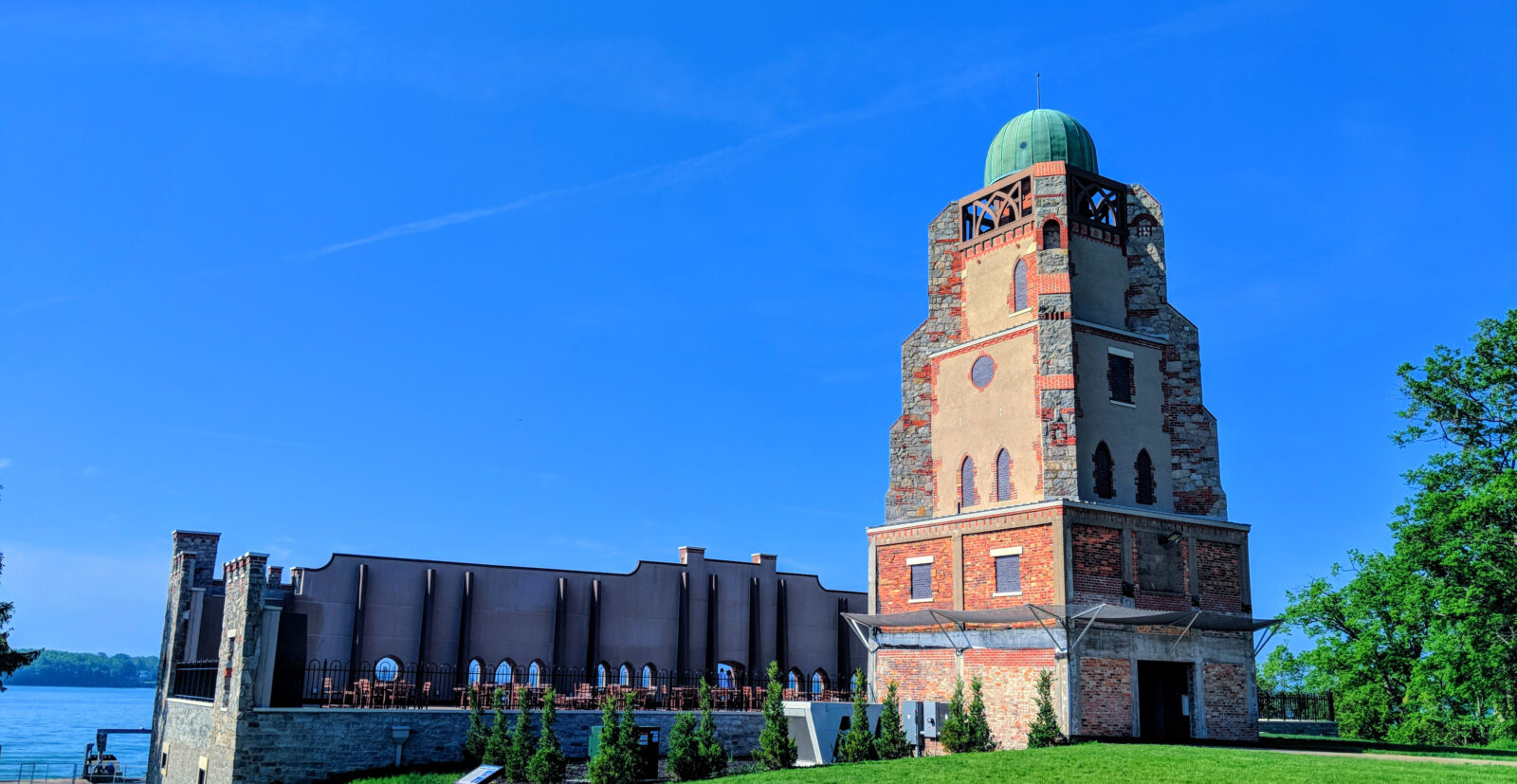 View of the Lonz Winery tower and the backside of the facade that faces out towards Lake Erie. (Shutterstock)
When contemplating iconic, American-made wines, most people probably first think of Napa Valley, then maybe meander toward the upstart vineyards in Virginia. Some might not consider the bouquet and notes of wines produced near the shores of Lake Erie, in the fruit-growing region. 
But that's about to change. 
There are nearly two dozen wineries and cellars worth checking out in the New York/Pennsylvania region of the second-smallest Great Lake. And alongside these purveyors of fine regional wines are numerous restaurants and other attractions, including artist studios and the Grape Discovery Center, which outlines the 150-year history of grape-growing there. 
If wine isn't your thing, there are a few breweries in New York/Pennsylvania wine country where you can tip back a pint or two. 
Some important pandemic-related points to keep in mind when planning your tasting travels, as suggested by Lake Erie Wine Country (www.lakeeriewinecountry.org), include: 
Wineries might be open by appointment

only

for tastings.

Some may have restrictions for groups, buses, and transportation partners.

Masks will be required at most if not ALL wineries before sitting down at your tasting space.
So grab a glass and get to the tasting, safely.
PENNSYLVANIA
Visit — and perhaps spend the night at — an abode made famous in "Silence of the Lambs" 
What kind of person wants to sightsee and even sleep in the home of a fictitious serial killer? 
Admit it: You are. 
Those who are fans of the 1991 Anthony Hopkins/Jodie Foster psychological thriller (really, who doesn't love this film?) can take a gander at this historic abode where (spoilers!) FBI agent-in-training Clarice Starling confronts and kills the women-slaying, skin-sewing, homicidal Buffalo Bill, inspiring a multitude of bad imitations of his infamous "It rubs the lotion on its skin, or else it gets the hose again" remark. 
The Fayette County home that doubled as Buffalo Bill's has a new owner who has turned the four-bedroom house located less than an hour east of Pittsburgh into a bed-and-breakfast, aptly named Buffalo Bill's House (www.buffalobillshouse.com). 
Depending on the COVID-19 case count, you may be able to book a room or even have your wedding there at this surprisingly lovely home with beautiful grounds and a swimming pool. 
As for the well in the basement where Bill kept his victims? You'll have to book a room to see if it's there. But be sure to bring a friend … just in case.
MARYLAND
Remember the past while contemplating the present: Antietam Battlefield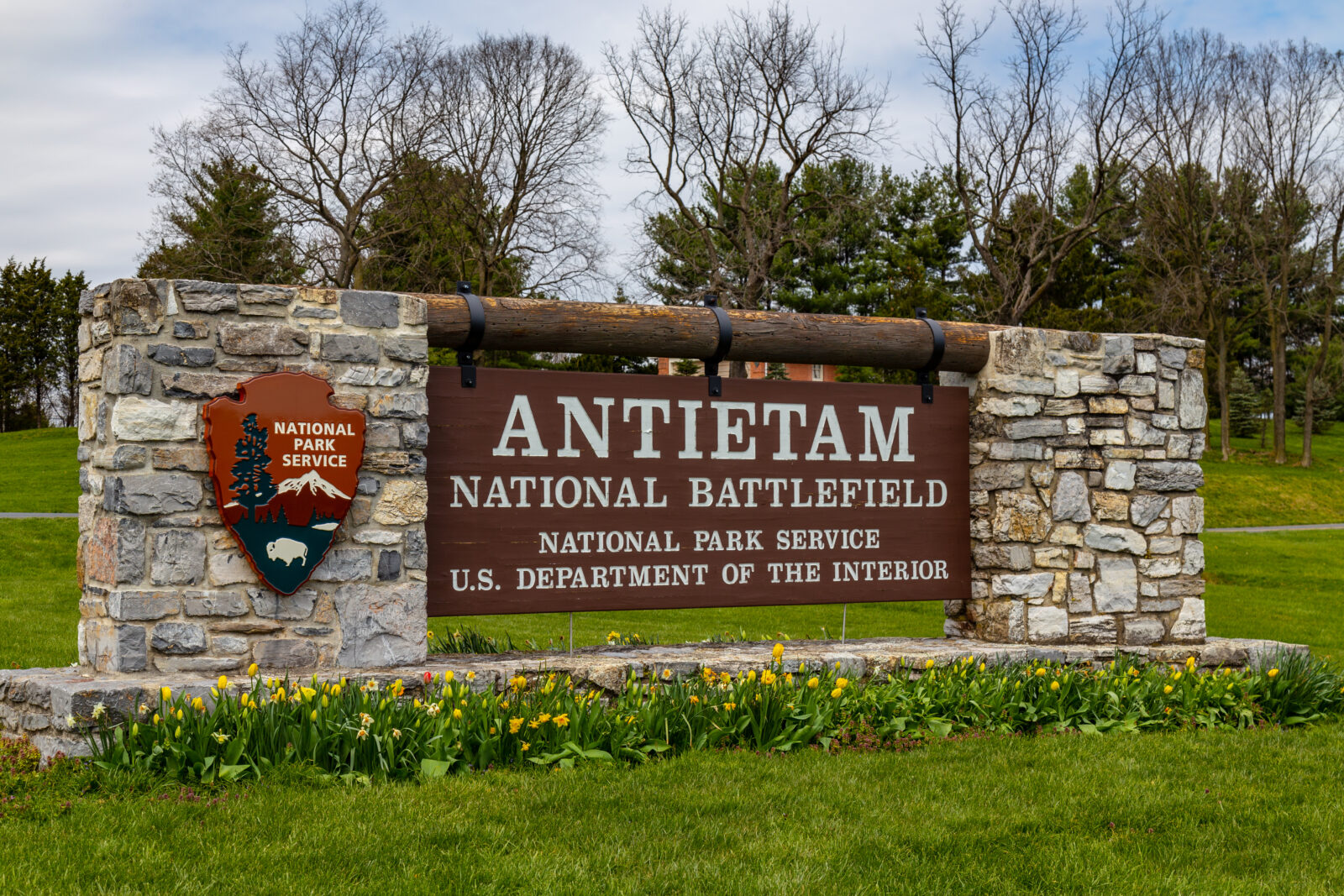 The National Park Service Antietam National Battlefield Welcome Center Sign near Sharpsburg, Md. (George Sheldon)
Considering the deeply fractured nature of our current-day political and social landscape, there's no better time to reflect on the Civil War, which nearly destroyed the nation while putting an end to American slavery. 
You can do that and more at Antietam, one of the best-preserved battlegrounds on American soil. 
There's so much to ponder on this hallowed ground. Tens of thousands of lives were lost on both sides during the fierce battle led by Confederate Gen. Robert E. Lee and Union Gen. George Brinton McClellan. The Union's victory following the fight in 1862 provided President Lincoln the ideal opportunity to issue the Emancipation Proclamation, an executive order freeing the slaves. 
Of course, it would take more than two years for his proclamation to take effect, but the journey toward abolishing America's Original Sin wound through this Maryland field of valor. 
Before going, brush up on the history of the battle at the American Battlefield Trust's overview of Antitiem to learn about the role of Black soldiers in the fight and much more. 
Then explore this 464-acre solemn site by foot via hiking trails or by car on an 8.5-mile driving tour. Along the way, you'll see monuments commemorating the heroics and sacrifice of those who died and others who made it home.
There's so much to see at Antietam that it's recommended to give yourself a couple of days to take in the magnitude of a moment in time that dramatically reshaped the American landscape for generations to come.

Antietam Fenceline Panorama in Antietam National Battlefield, Sharpsburg, Maryland. (Holly Kuchera)
OHIO
The all-in-one outdoor getaway: Wayne National Forest
Located just outside of Columbus, Wayne National Forest (http://www.waynenationalforest.com) is practically a one-stop-shop for most of your outdoor adventure needs after a seemingly interminable year of virus worries. 
The park spans nearly 250,000 acres, so there's plenty of room to spread out and spend some time maskless in the woods hiking, camping, whatever your favorite activity, or just leisurely wandering and relaxing. 
When the weather warms up, you can take a dip in a lake or stay dry while fishing. 
Want to get a little more mobile? There's also fantastic mountain biking for all competency levels and horseback riding in the rugged, picturesque Appalachian foothills. Those who yearn for even more speed can ride dirt bikes, quads, or side-by-sides on more than 145 miles of trails that don't reopen until mid-April, lest they get too torn up amid winter snow and early spring rain. 
There are also a few state parks nearby that are worth checking out. 
Wayne's location makes it an easy day's drive from other Postindustrial cities such as Louisville, Cincinnati, Pittsburgh, and more. 
Stay a few days at any number of nearby cabins for rent or local inns to get the most out of your Wayne stay. You'll be glad you took the time.
TENNESSEE
Examine America's long, fraught journey toward justice at the National Civil Rights Museum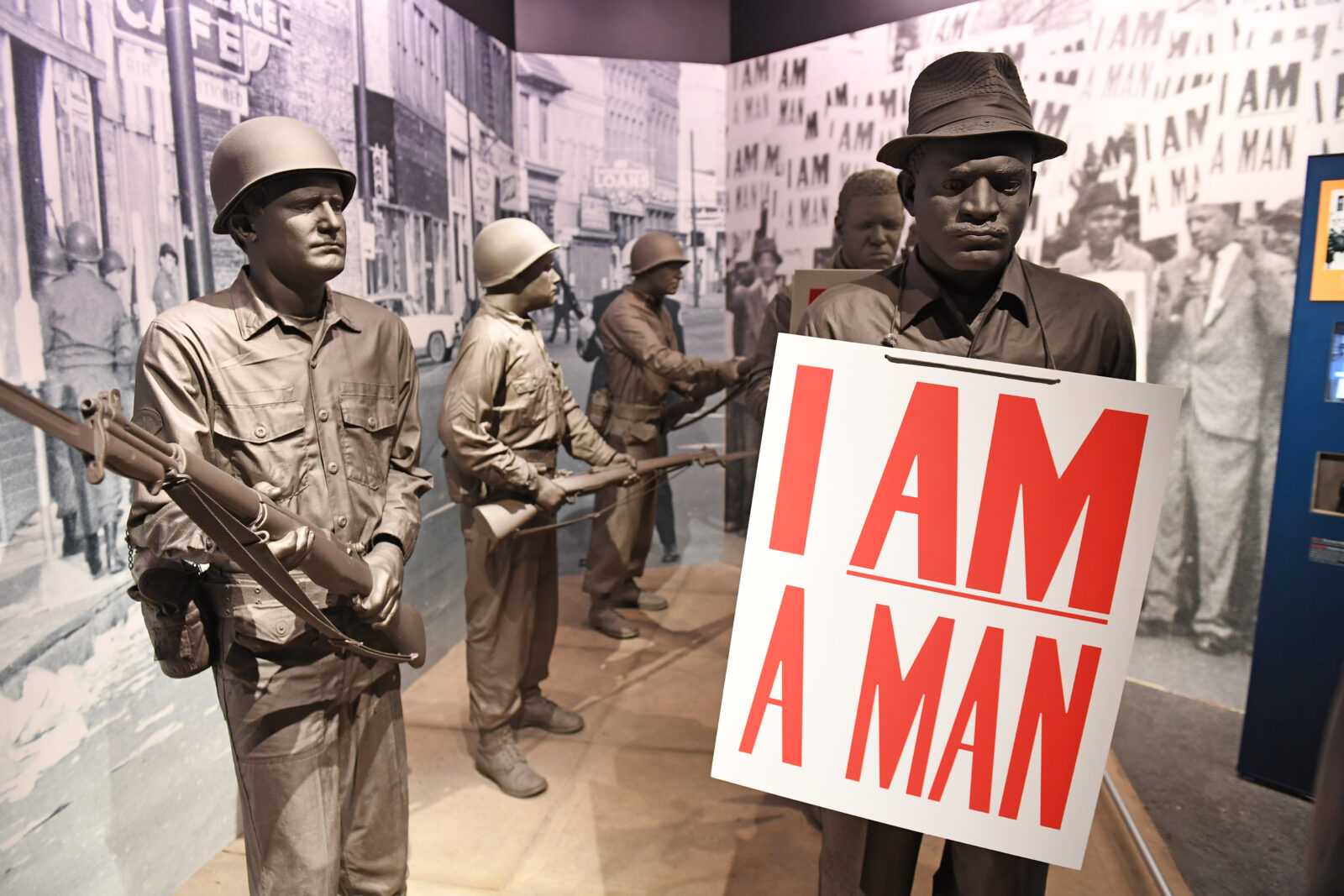 I am A Man exhibit as part of the National Civil Rights Museum and the site of the Assassination of Dr. Martin Luther King Jr. (Gio Santa Maria)
Following the death of George Floyd at the hands of a Minneapolis police officer last year, America was once again thrown into turmoil and forced to confront the racism and excessive force that pervades some corners of law enforcement. 
Protests erupted across the country, including at the doorstep of the White House, calling for an end to cruel, consequence-free policing and justice for communities of color. In response, some others attempted to undermine, villainize, and at times brutalize, the Black Lives Matter movement. 
These protests, which persist to this day, were but the latest chapter in a long, often-bloody, fight for equal rights in America, one that can be best examined at the National Civil Rights Museum in Memphis (www.civilrightsmuseum.org). 
The museum's permanent collections include an exhibit on the history of American slavery dating to 1619 until the beginning of the Civil War, as well as a retrospective on the 1950s and '60s civil rights movement that questioned the second-class status of Black Americans. 
The museum incorporates the old hotel where civil rights icon Martin Luther King, Jr. was gunned down by an assassin in 1968, a sobering reminder of the bravery of civil rights icons and the price they paid for their convictions. 
Were it not for those brave enough to speak out then, the current struggle to create a more perfect and just union for all may not exist.
The National Civil Rights Museum officially reopened on March 1 following a COVID-19 shutdown. Be sure to contact them ahead of time in the event of another pandemic surge this spring.
KENTUCKY
Get vertical, go underground, or zip through the air: Red River Gorge National Park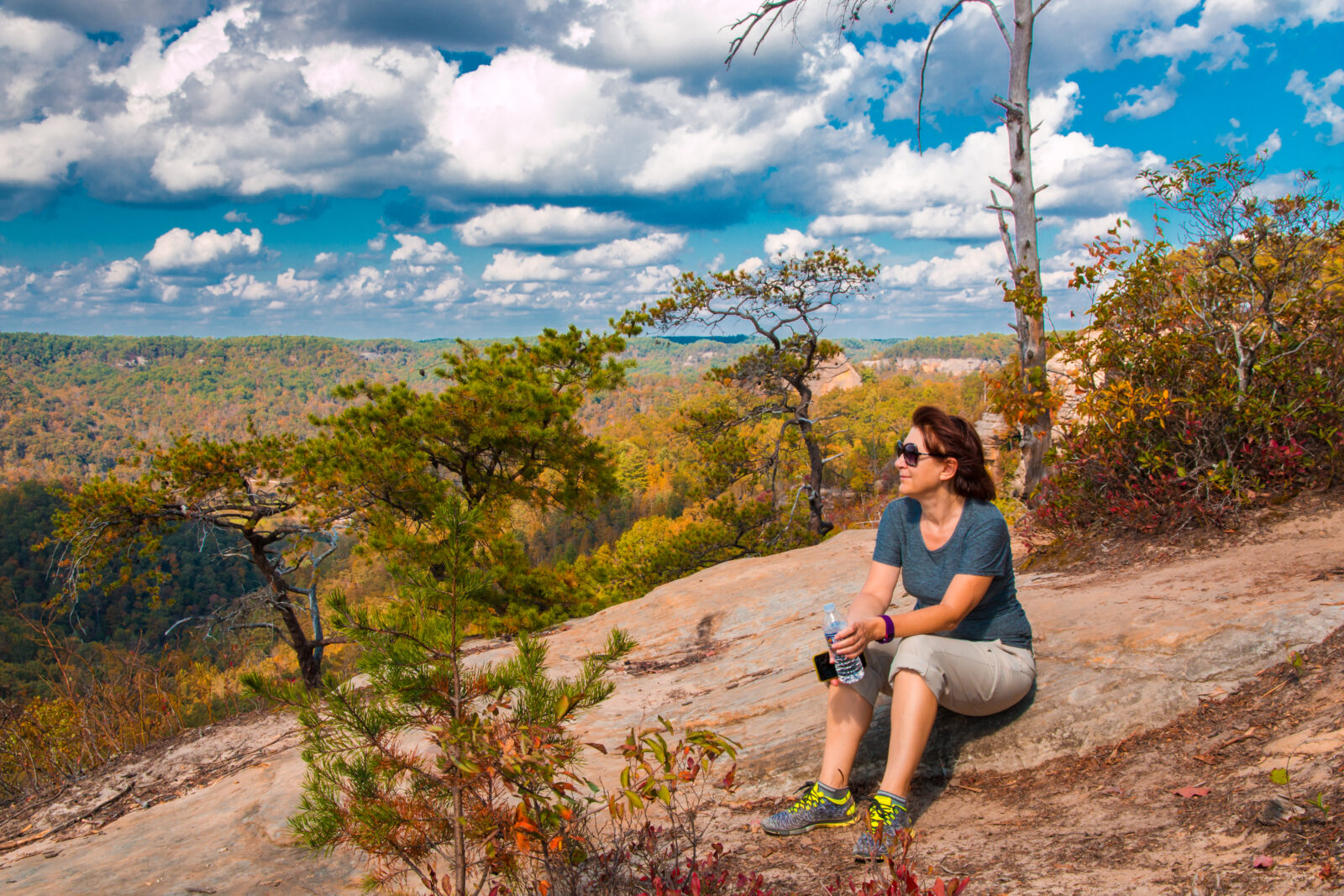 Woman resting after mountain hiking and enjoying the view of Red River Gorge in Kentucky. (Irina Moss)
Whether you're a rock climber, kayaker, zipline enthusiast or prefer to keep your feet firmly planted on terra firma, there's plenty to do for the outdoor adventure at Red River Gorge National Park (www.redrivergorge.com). 
Rock climbers can test their grip on faces of varying height and difficulty. Whether you prefer bouldering close to the ground or forearm-burning lead climbs that will push you to your limit, there's a face for every type of climber. 
Hikers can take trails of varying length and difficulty, many winding through the most scenic portions of the park in a single day. Those who want to extend their stays outdoors can pitch a tent in the backcountry. 
Looking for a less labor-intensive thrill? Try ziplining through the forest canopy to blow your hair back. 
The most intriguing activity at Red River has to be the "Gorge Underground": a guided tour by kayak of subterranean waterways. You'll paddle through the Gorge Grotto on an hour-long exploration in darkness lit by headlamps as your guide explains the history of the flooded cavern. 
Accommodations at Red River are an experience unto themselves. There are lakefront log cabins, some with hot tubs. And be sure to check out the park's treehouse bungalows. Book early in the season if you want one.