GET OUT: Roam free and soak in some sun and sights this summer
~
By Staff
---
After more than a year of uncertainty and restrictions on our movement, it's time to head out and have some fun. 
Lots of it. 
Museums, amusement parks, and other attractions are reopening throughout Postindustrial America. Our suggestions offer enjoyment of the great outdoors, opportunities to learn more about the history of our region, and, of course, ways to just have a ball.
TENNESSEE
Music City is back, baby!
Nashville
The Music City is back in action this summer.
The music, food and honky-tonkin' good times are aplenty! World-class barbecue, hot chicken, and all the fixins' are reason enough to put the Tennessee capital on your must-do list. 
Nashville's vaunted nightlife and southern culinary treats aren't the only thing the city's got going for it. Check out the 12South neighborhood for cool clothes and other boutique shopping. 
Burn some calories kayaking on the Cumberland River, winding through town or cycling around town, both offering great views of a New South city with loads else to offer. 
While flights remain cheap — same with some hotels — Nashville is less than a day's drive from almost anywhere in Postindustrial America, making it an ideal road trip destination.
WEST VIRGINIA
So much history in one small town: Harper's Ferry National Park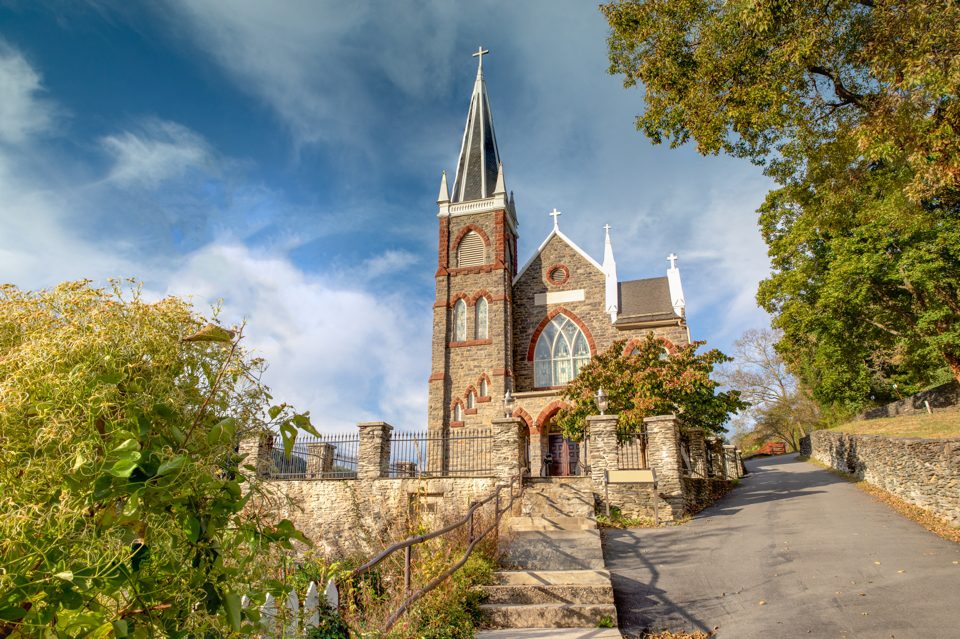 The historic haunted St. Peter's Roman Catholic Church is an iconic landmark located in Harper's Ferry National Park alongside the Appalachian Trail in West Virginia. // Shutterstock
A historic community at the confluence of the Potomac and Shenandoah rivers, Harper's Ferry lets visitors take a step back in time to the pre-industrial, agrarian era of America's rich history. 
Harper's Ferry is a throughline for numerous significant moments in American history and the figures who shaped it, including famous anti-slavery crusaders such as John Brown and Frederick Douglass, as well as noted Black author and civil rights pioneer W.E.B. DuBois. 
Must-see sights for history lovers include John Brown's Fort, where in 1859 Brown and others barricaded themselves during their ill-fated raid that attempted to spawn a slave uprising and end the evil practice of brutal, forced subjugation once and for all. 
Another favorite destination in Harper's Ferry is Jefferson Rock, where in 1783 the future president and drafter of the Declaration of Independence first took in the splendid mountains and rivers where Virginia, West Virginia, and Maryland meet. 
Hikers will certainly find no shortage of paths to traverse in the area, among them the Appalachian Trail. Rock climbers, too, will find their share of challenging faces to scale. 
VIRGINIA AND WEST VIRGINIA
The Shenandoah Valley is a much-beloved camping and day trip destination for good reason: It's absolutely gorgeous. 
You'll be gobsmacked by mountain and valley views stretching across two states. Shenandoah is also home to many woodland creatures, including snakes and black bears. So, while hiking, keep your eyes peeled and be sure to steer clear of any cubs you might happen upon. Momma bear won't be far behind. 
You can test your hiking mettle on the Old Rag Mountain hiking trail, which features some adventurous scrambling over larger boulders and offers incredible views from the top of the valley and beyond. 
But be forewarned, pursuing the summit of Old Rag won't be easy. Best to do it with some friends to lend a hand when making your final push to the top. And watch your step when it rains — those rocks get slick. 
Rock climbers will fall in love with the multitude of vertical faces from which to choose, ranging from easy to expert climbs. 
For those looking to do more relaxing in nature, Shenandoah offers plenty of camping options, from rugged to luxurious, as well as other activities such as horseback riding to birdwatching. 
There's also plenty to see and appreciate from the comfort of your car. Skyline Drive is 105 miles of north and south highway along the crest of the Blue Ridge Mountains. Driving the length of Skyline through the park will take about three hours at a leisurely pace on a sunny day. However, allow yourself a full day or more to stop and take in the sights. You'll be glad you did.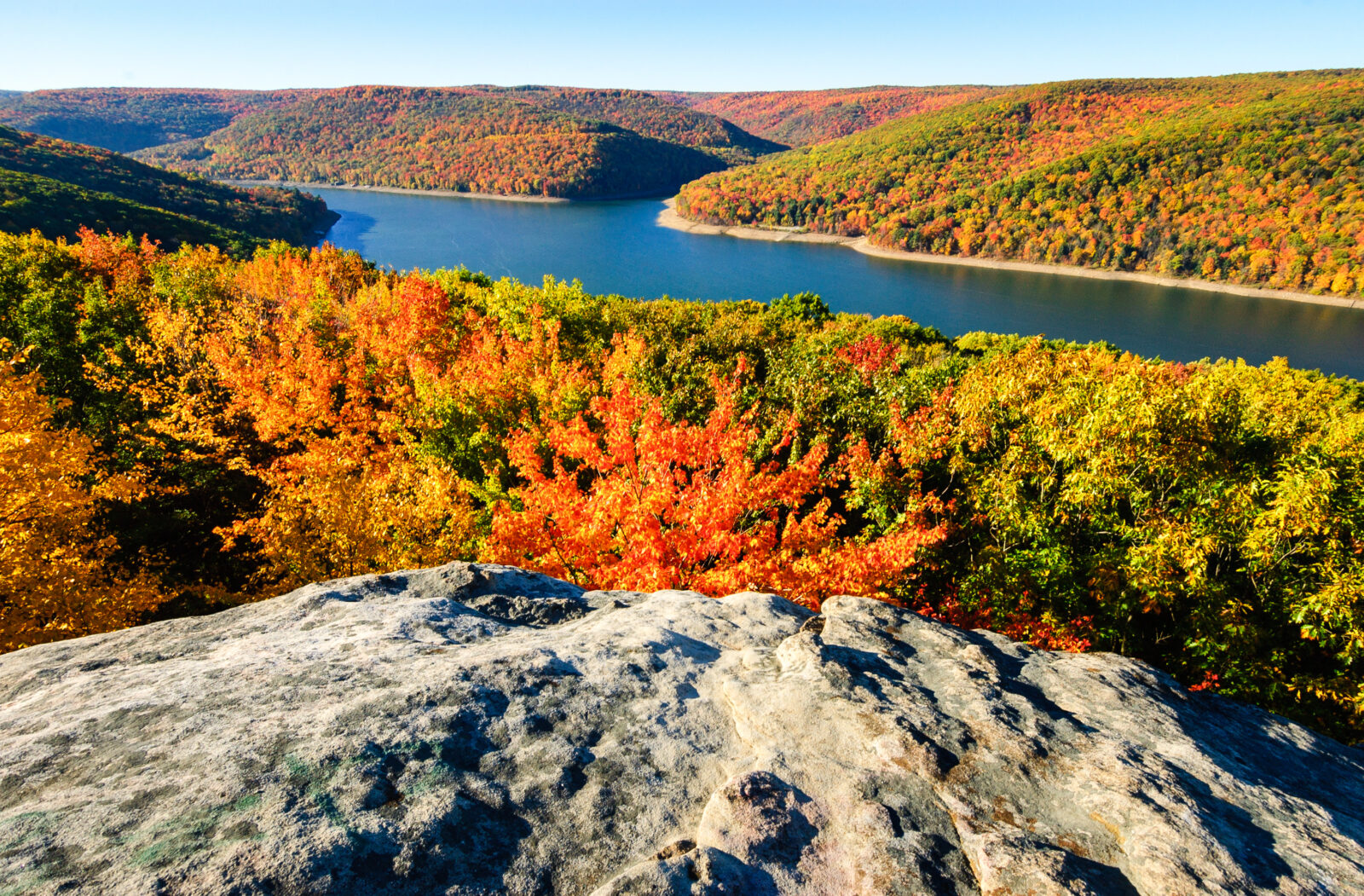 Allegheny National Forest // Shutterstock
You might be asking: What's there to do in Allegheny National Forest? 
Perhaps the better question is: What can't you do in more than 500,000 acres of protected lands replete with mountains, valleys, rushing waters, and much, much more? 
Whether hiking, cycling, paddling, climbing, horsebacking, fishing, off-roading, or just lounging around in nature is your preference, this forest has opportunities in spades. 
Seriously, you could spend your summer trying to tackle all that a forest straddling three counties has to offer.
It's also a great place for nature lovers to spot woodland critters, both common and rare, including bald eagles. 
Getting on the water in the Allegheny is easy and fun for the whole family, as the Clarion River running through it never gets faster than a Class I rapid, which means it's suitable for beginners.
Campers will enjoy plenty of elbow room between you and other tents, giving you the peace and solitude you've been craving after more than a year of being in close confines with family during the pandemic. 
If roughing it isn't your thing, there are also plenty of places to rent, inside and outside the park. 
Be sure to check out the Allegheny National Forest website for information on camping permits and cabin availability in the forest. 
ILLINOIS
Scream your lungs out!: Six Flags
Chicago area
The Midwest's largest amusement park is back in action this summer!
Those who are fully vaccinated can scream to their heart's content sans masks, in accordance with guidelines at the park situated just north of Chicago near the Wisconsin border. 
Thrill-seekers will want to test their mettle on the Bourbon Street Fireball, a seven-story-tall looping roller coaster that offers views of the entire park while you're being whipped, flipped, and inverted. 
And if that's not extreme enough for you, there's the granddaddy of all Six Flags coasters named after the mightiest of all comic book heroes. Superman: Ride of Steel is what's called a "hypercoaster," an all-new breed of extreme-thrills ride with climbs and drops topping 200 feet!. 
Not to be outdone by the Fireball, Superman's namesake ride also includes a collection of DNA-helix corkscrews that will have you wondering which side is up. 
For those less inclined to have their inner ear thrown out of whack, the park offers a selection of family-oriented rides that will thrill the youngsters while allowing you to hang onto your lunch. 
The kids will also get a kick out of the live show featuring plundering pirates as they recount their most famous treasure-seeking exploits. 
Considering how much the park has to offer, multi-day passes are your best bet.
OHIO
Cleveland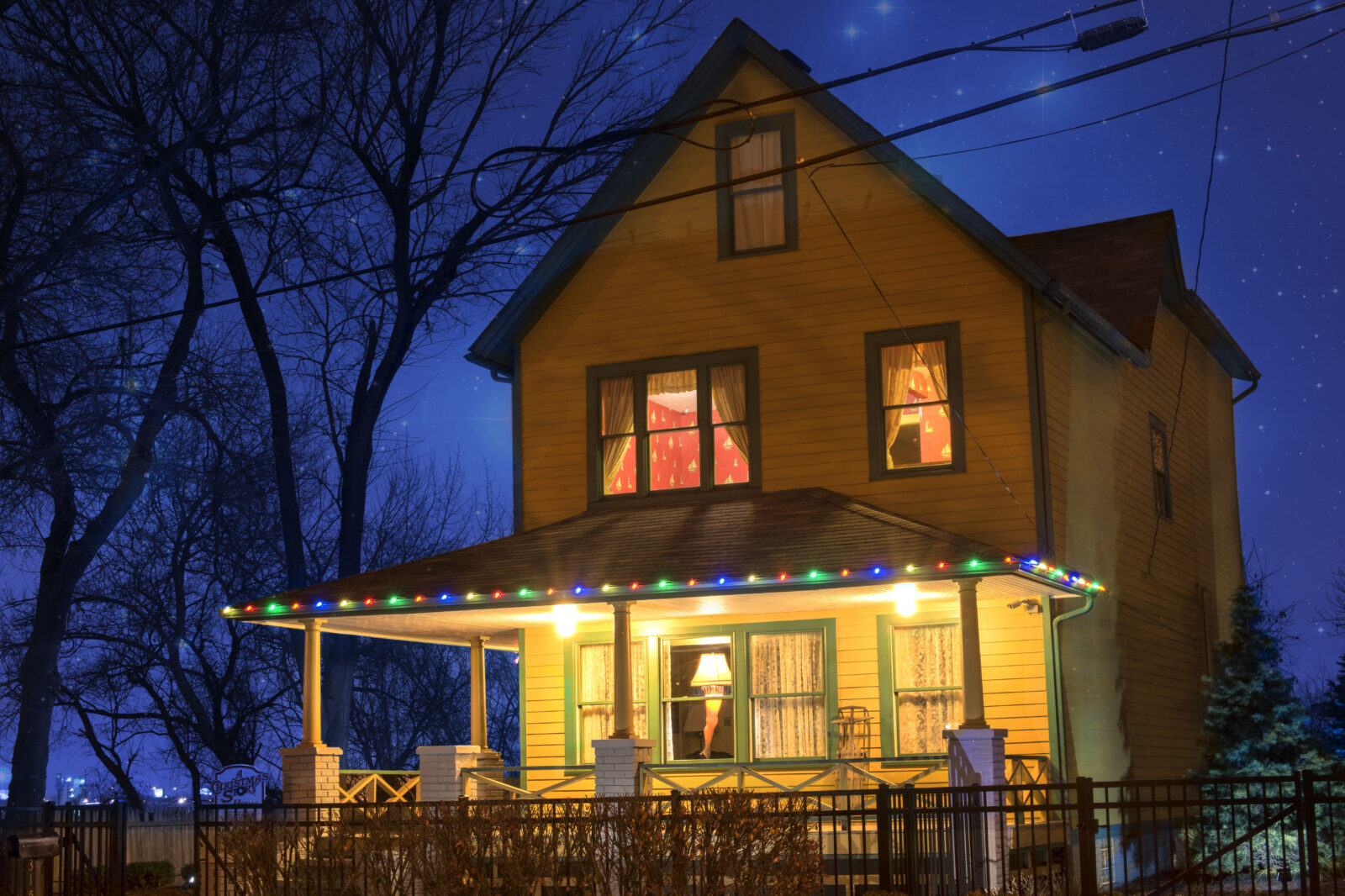 Christmas Story House // Shutterstock
Even diehard fans of this modern classic may not have known Ralphie's childhood home was located just outside of Cleveland, where much of the beloved tale of childhood Christmas wishes was filmed. 
The modest yellow wooden home with the provocative leg lamp (which itself has become an iconic holiday decoration favored by your cool neighbors) is etched into our collective cinematic consciousness. 
Not only can you visit the house where Ralphie dreamed of owning his very own Red Ryder BB Gun, but for upwards of $600 a night you can sleep there as well. 
Guests sleep in Ralphie and Randy's room and have access to the entire film-accurate house after tours finish for the day. 
Don't want to shell out that much money, but still want the overnight, "Christmas Story"experience? 
Then try staying next door at the Bumpus House, Ralphie's hillbilly neighbor's abode, sans the turkey-stealing hounds that are the bane of Ralphie's dad's existence. 
No smelly hounds come with the Bumpus accommodations — fortunately. 
Much more than just a swimming hole: Nelson's Ledges
Garrettsville
Where can you swim, camp, hike, check out a music concert, and soak up some sun on the beach all in one place in the Buckeye State? 
Look no farther than Nelson Ledges Quarry Park, some 250 acres of forest and meadows surrounding a spring-fed, clearwater, quarry lake. 
For decades, the park has drawn visitors from around the world to its natural and man-made beauty and myriad activities such as fishing, paddling and even scuba diving. Dry land fun includes biking, climbing, and ample wildlife-watching opportunities. 
Nelson's Ledges also offers more than 400 campsites, making it easy to spend a few days surrounded by nature in one of Ohio's most picturesque protected areas. 
It boasts a music venue that hosts top attractions such as country music legend Willie Nelson (no, the park is not named after Willie, though it's reasonable to ask). 
Check out the quarry's website for more details about events planned for this summer, including the Summerdance 2021 music festival in September. 
Harriet Beecher Stowe House
Cincinnati
Author of more than 30 books, anti-slavery activist and writer Harriet Beecher Stowe (1811-1896) is best known for her heartbreaking tale of the devastation wrought by the insidious practice: "Uncle Tom's Cabin."
Visit the home where Stowe lived much of her married life and suffered the loss of one of her seven children, an 18-month-old boy who died of cholera. The anguish Stowe felt, coupled with her anti-slavery stance, would later inspire her to write of the pain and suffering of the enslaved, thus creating one of the most celebrated works in the history of American letters. 
A visit to her home in Cincinnati will also open the doors to other historic happenings during her days there, such as the Underground Railroad. 
You'll see Stowe's desk and writing implements and learn about the other writers and scholars who have passed through the home. 
To book a guided tour of the home, go to stowehousecincy.org. 
PENNSYLVANIA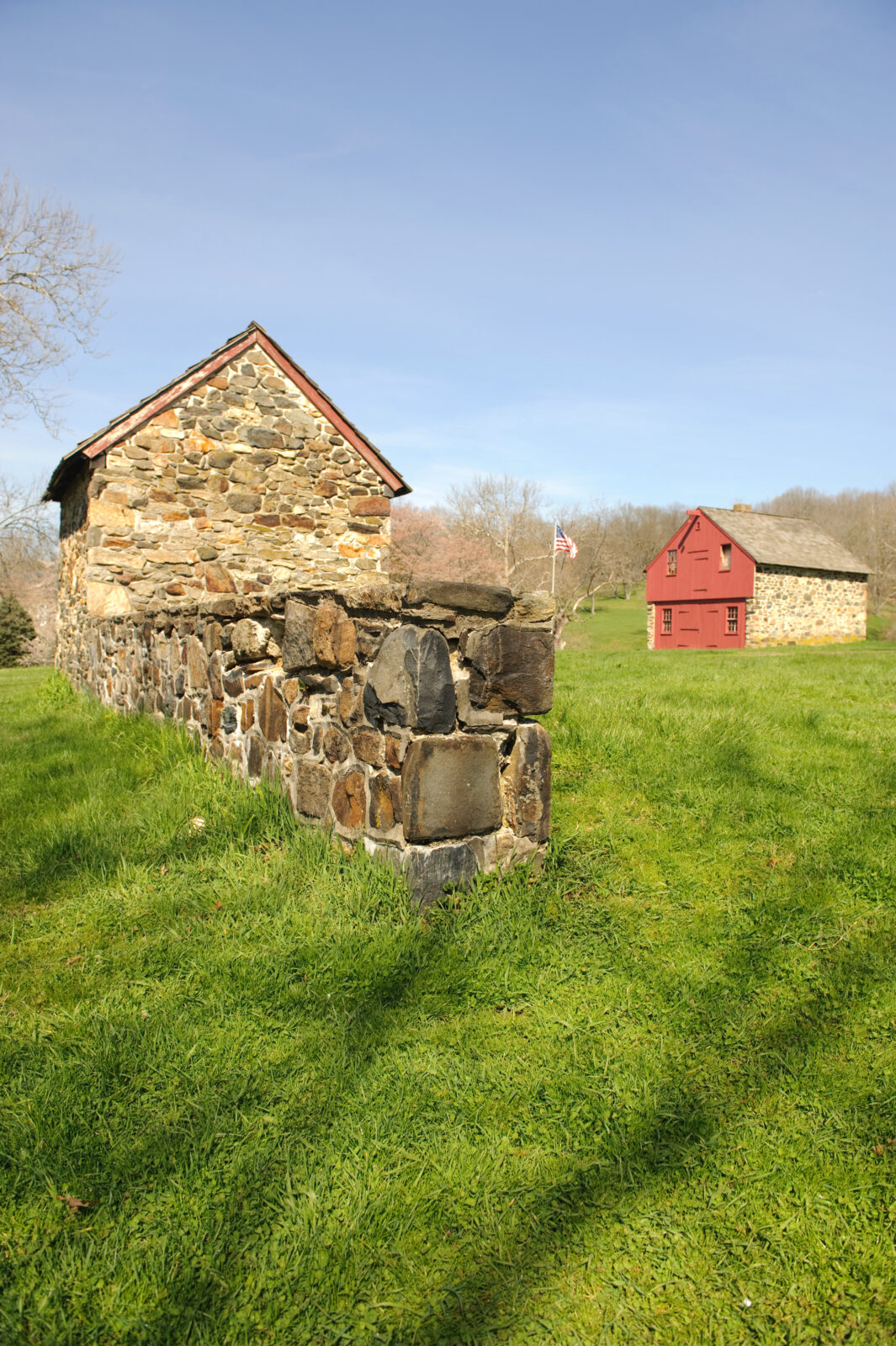 The home of farmer Gideon Gilpin, in Chadd's Ford, Pa. The Marquis de Lafayette used Gilpin's house for his headquarters during the Battle of Brandywine in 1777. Gilpin, a Quaker farmer, was living there with his family during the war. His property was plundered by soldiers. In later years, he operated a tavern out of his home to help support his family. // Shutterstock
Tour American castles, stroll immaculately-kept gardens, and browse museums replete with American art and historical relics.
You can do all that and more in Brandywine Valley, which is also home to a Revolutionary War battlefield, one of the oldest working colonial farms in Pennsylvania, and much more.
You'll find the region's rolling hills a tranquil and inspiring respite, as did famed artist and illustrator N.C. Wyeth, whose work is inspired by the Brandywine Valley. 
But not every attraction has a historical or artistic bent. 
Oenophiles will want to check out the Brandywine Valley Wine Trail, a collection of five vineyards producing unique wines from grapes grown in the rolling hills of Pennsylvania's Chester County.