GET OUT: Autumn outdoor adventures, cool art and a reach for the stars
~
By Staff
---
Autumn excursions are a must before the arrival of shorter, colder days ahead. Crisp air, changing leaves and other natural splendor abound in Wisconsin, West Virginia and elsewhere. It's also a great time to take in the wonders of space travel in Alabama and the art scene in Rochester. Before Old Man Winter comes calling, check out some of these great places to get out.
PENNSYLVANIA
Find unblemished, natural beauty where the global oil boom began: Pennsylvania's oil region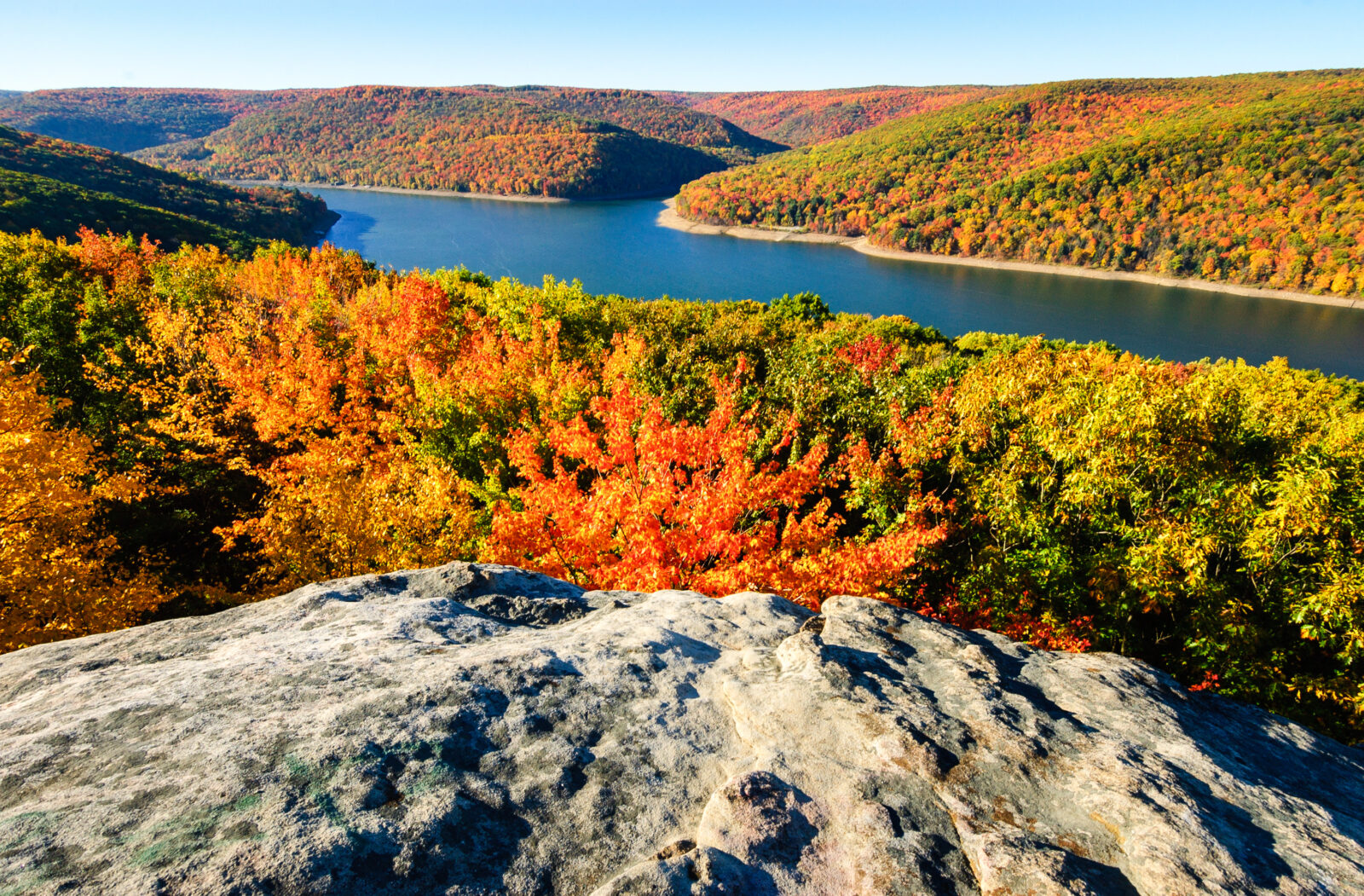 You may be asking yourself: Why the heck would I want to visit a place where oil was first discovered? 
Just hear us out: In addition to being the home of the first purposeful oil strike in 1859, kicking the Industrial Revolution in high gear and sparking many a bloody global conflict over the world's most coveted natural resource, it's a helluva pretty place. 
The oil wells that put Titusville on the map are long gone, as are the noxious fumes and eco-hazardous spills that were the hallmark of early oil production — that hasn't changed in the oil game over the last 160-plus years, unfortunately. 
These days, the region is budding with wildlife and flora second to none in the Keystone State. 
There's biking and hiking along the Erie-to-Pittsburgh trail that's ideal for off-the-beaten-path adventures in this idyllic corner of Northeast Pennsylvania. 
Delve even deeper into nature along the Oil Creek State Park Trail for a day's hike, best viewed when the leaves are at their most vibrant autumn peak. There are also some remnants of the old oil days in this park. 
Must-try trails include the Samuel Justus Trail, the McClintock Trail and the Allegheny River Trail, a 28-mile journey along its namesake river that includes two long tunnels (bring a flashlight), one of which is more than 3,000 feet long. 
If putting yourself to the test is your game, there are also mountain biking trails and a series of foot races every year, including a grueling 100-miler, if that kind of agony is your game. 
If it's a slower outdoor temp you seek, head to water for a paddle along the river, though it's best to avoid the rapids under the Veterans Bridge in Oil City — they can get a tad dicey for the inexperienced and ill-equipped waterperson. 
When the day's fun is done, there are plenty of restaurants and watering holes in Pennsylvania's oil region, whether you're in Titusville or nearby. 
After you've tuckered yourself out on the trail and/or water, and tossed down your last local brew, you'll want to rest up for another day's adventure. You can do so at any number of local bed-and-breakfasts, such as the well-preserved and appointed D'Casa (dcasabb.com/) in Franklin. 
Campers have their choice of places to pitch a tent or park their RV. Either way, you'll want to spend at least a few days here to take advantage of the one-time oil production capital of the world, which has turned into an ecologically magnificent swath of pristine forest and waterways.
WEST VIRGINIA
Take an extra long, I mean really long, hike in West Virginia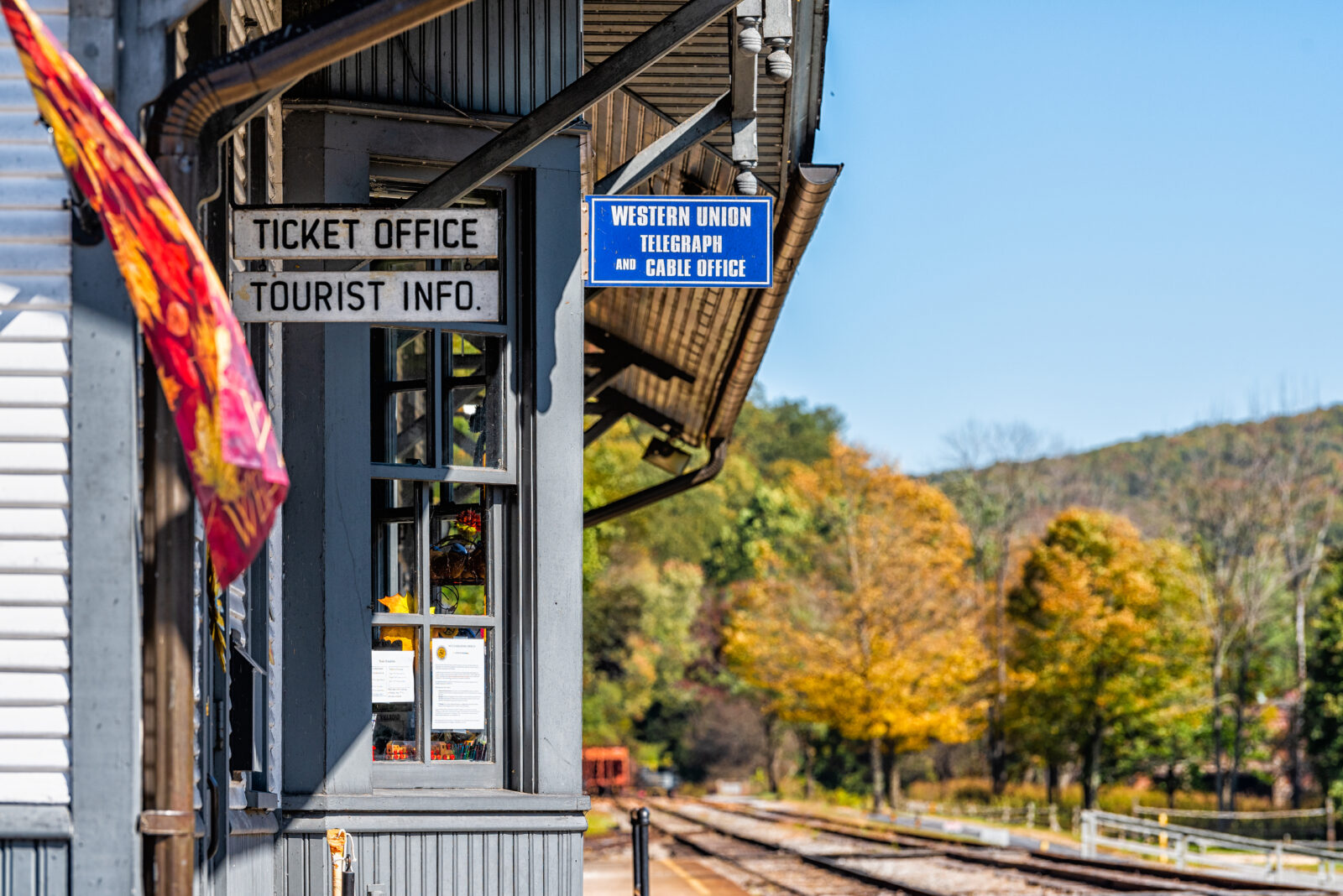 Sign for ticket office, tourist information and Western Union telegraph cable office of Cass Company Railroad scenic station, in Pocahontas County, W.Va.
Folks over at the Greenbrier River Trail boast that its the longest multi-use trail,  accommodating hikers, bikers, and horseback riders, in the Mountain State. 
The 78-mile former rail bed passes through small towns and forest alike, making it an ideal destination this autumn for those interested in doing a little daylong leaf peepin' or those wishing to cover the entire length of the trail. 
The trail begins at Caldwell, near Greenbrier State Forest, and passes through numerous small towns worth checking out for eats and overnight stays, if you're keen on completing the entire trail. 
Hikers, bikers, and riders will traverse over 35 bridges and through two tunnels as the trail meanders along the valley, with its northern terminus at Cass Scenic Railroad State Park in Pocahontas County. 
Throughout much of its length, the trail runs alongside the Greenbrier River and is flanked by the Allegheny Mountains. The trail is fairly easy to navigate; there are no steep rises along the way and the surface is mostly hard-packed, with some sections that are gravel.
If you're in it for the long haul, you'll want to check out several state parks and forests along the trail, which also provide overnight accommodations for heartier hikes and explorers. 
Those on shorter excursions can set out from Caldwell and enjoy a day in nature, then head for one of the many eateries in the area that are worth checking out, including In-Fusion, an Asian eatery located inside the Casino Club at The Greenbrier Resort. 
https://wvtourism.com/company/greenbrier-river-trail
KENTUCKY
Learn a little history while day-drinking in Kentucky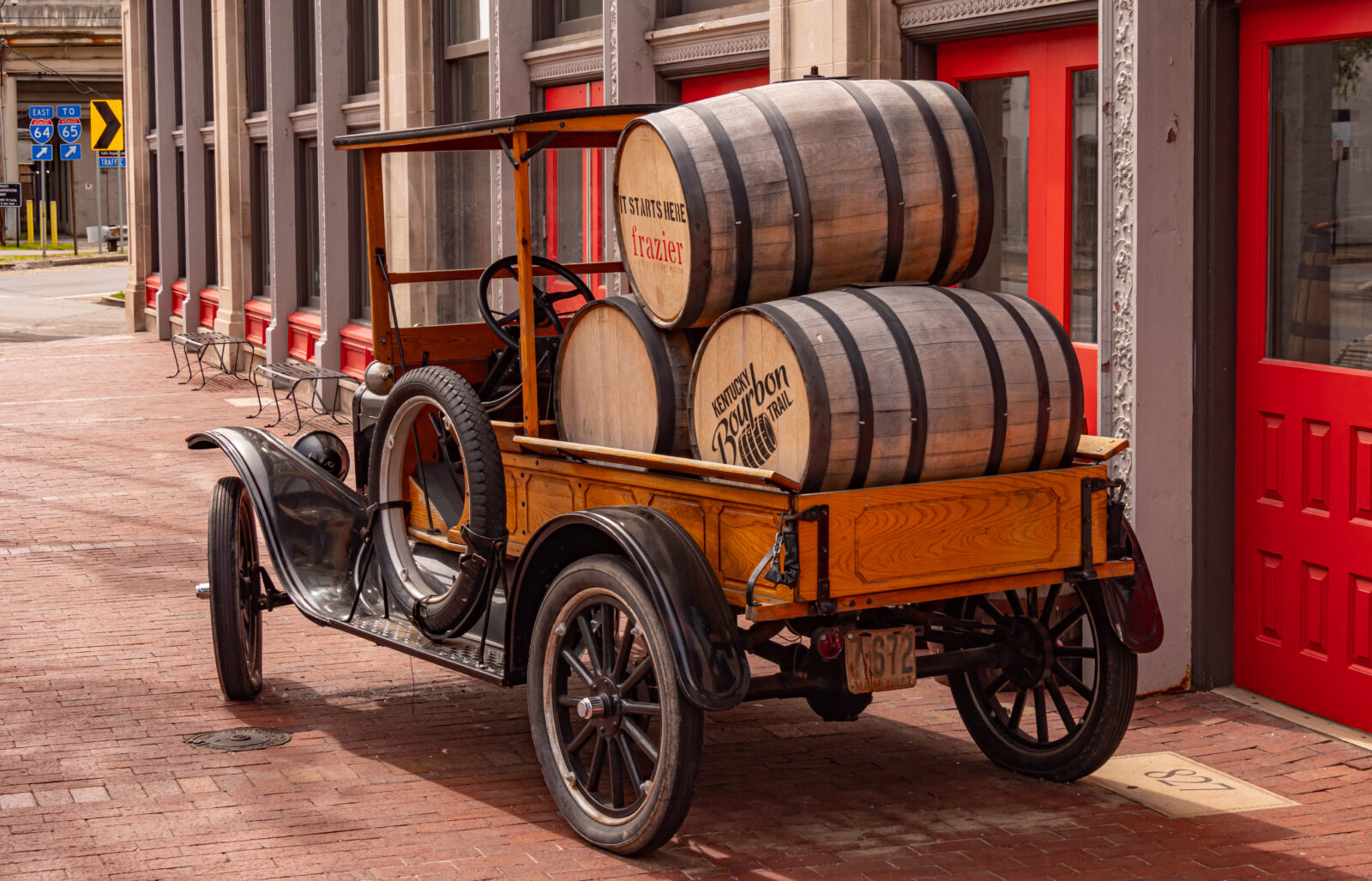 Question: How does one embark on a road trip to Kentucky's premier bourbon distilleries in which you imbibe along the way? 
Answer: Take a guided bourbon tour in a luxury van and learn about this time-honored tradition from bourbon experts while safely sipping along the way. 
The Louisville-based Bourbon Hall Tours & Tasting will help you refine your palate for Kentucky's best spirits during their informative and always entertaining (especially towards the end) tours of the best distilleries in the Bluegrass State. 
There are three different tours from which to choose. The "Eastern Tour" traverses rolling hills where thoroughbreds graze on some of the state's most opulent estates, one of which is home to a castle built in the 1880s. Along the way, you'll visit the distillery that made the world-famous Pappy Van Winkle. 
Meanwhile, the "Southern Tour " features a stop at the more than 200-year-old Jim Beam plant, still one the largest bourbon producers in the world. Also on this trail is a stop at the home of Maker's Mark, where perhaps you'll catch a glimpse of distillers adorning bottle tops with that distinctive red wax seal. A relative newcomer to the bourbon game, Lux Row, is also a stop. 
Your final choice, the "Urban Tour," is a mix of old-school and the newer bourbon makers such as Rabbit Hole Distillery. You'll also discover Kentucky Peerless Distillery, a small production company that was started in the mid-1880s. At Angel's Envy Distillery, you'll learn the fascinating story of master bourbon-maker Lincoln Henderson, an inaugural member of the Kentucky Bourbon Hall of Fame who passed away nearly a decade ago. 
There's so much to learn and appreciate in Kentucky's bourbon country, so be sure to take lots of photos and notes, lest the spirits you consume along the way make it hard to recall. 
https://www.bourbonhalltours.com
OHIO
Explore Native American history in Ohio
So much of our understanding, or lack thereof, of the "American Experience" begins with the first arrival of Europeans to the continent. 
Yet Native Americans had been residents of the Western Hemisphere for thousands, perhaps even tens of thousands, of years before Christopher Columbus, or the probable Viking explorers who predated his arrival. 
Get a fresh perspective on America's first settler by visiting the SunWatch Indian Village / Archaeological Park in Dayton. 
The preserved and reconstructed Native American village was first rediscovered when Dayotn was planning its new sewage treatment plant, during which the ancient community was unearthed. Because of its archaeological and historical significance, SunWatch was placed on the National Register of Historic Places in 1975 and became a National Historic Landmark in 1990.
The "Fort Ancient" people who lived there were a Native American culture that lived in southern Ohio, northern Kentucky and part of what is now West Virginia for hundreds of years. They are believed to be the builders of the "Great Serpent Mound," whose reptilian slither across the landscape still confounds archaeologists and visitors alike. 
Their name originates from Fort Ancient, Ohio, an archaeological site near the Miami River. Despite being called a "fort," most experts assert that the site didn't serve as a base for Native Americans during battles with other tribes. Rather, it's thought by many to be a ceremonial site. 
Your visit to this little-known piece of the early American puzzle includes indoor and outdoor portions, including wood and thatch dwellings reminiscent of those used by the tribes in the region, as well as the Interpretive Center where visitors can see artifacts (pottery, stone tools, bone tools, textile fragments, etc.) discovered at the site and watch a film about Fort Ancient people and their first interactions with the strange visitors from the east. 
Be sure to check the schedule of events ahead of time if you intend to bring a larger group, say, a class field trip, or even if you're going solo. 
WISCONSIN
Enjoy Great Lakes vacationing in Door County, Wis.
Door County, Wisconsin
Located on the "Left Thumb" of the Wisconsin Mitten, Door County is the ideal starting point for land- or water-based adventures on Lake Michigan. 
Door's thumb is some 70 miles long and contains 34 named islands and dozens of towns worth checking out during a long leisurely stay. During autumn, you'll be treated to a spectacular  array of colors, andwinter excursions promise a glistening, magical snowscape. 
We could spend a few thousands words describing all that's available to do here. But in the interest of time, and not ruining the fun you'll have discovering some for yourself, we'll just stick with a few highlights. 
Many Door County inhabitants have Belgian and Scandinavian Roots dating more than 150 years. That's a lot of local history, which is probably why there are 70 properties and districts on the National Register of Historic Places in Door County and even more on the state register. 
The arts play a major role in Door County life, with theatrical, comedic, symphonic, and musical performances on the calendar nearly year-round, not to mention lots of art galleries showcasing local talent. 
Let's not forget the "natural artistry" that is the Door County landscape, a mixture of thick-wooded forests, beaches and lake scapes that are both peaceful and awe-inspiring. 
If it's an adventure you seek, there's almost too much from which to choose. Beaches, biking, birding, and boating are among the favorites. And that's just in the "B's." There's also hiking, snowmobiling and snowshoeing for winter lovers. All of these and other adventures are located in Door County's many parks.
After a long day of exploring and taking in the arts, pamper yourself at one of the local spas before dining at one of Door County's world-class restaurants that specialize in local seafood and farm-raised delicacies. 
Door County is only two-and-a-half hours from Milwaukee and four-and-a-half from Chicago, making it an ideal long weekend getaway for midwestern Postindustrial folks. If you're further away, book a flight to the Green Bay Austin Straubel International Airport just 46 miles away. 
MICHIGAN
Slow down and unplug on Mackinac Island, Mich.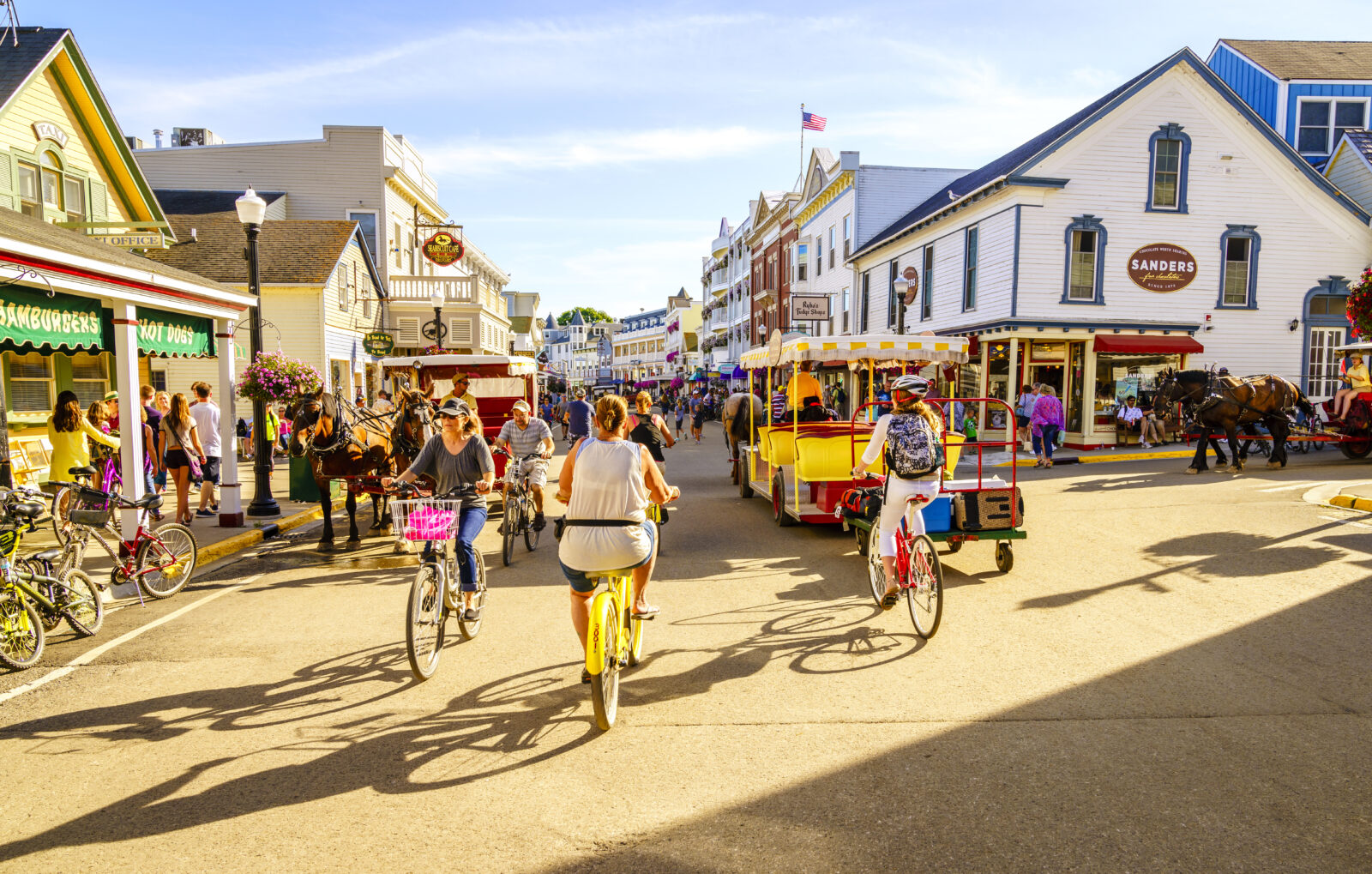 Vacationers take on Market Street that is lined with shops and restaurants on Mackinac Island, Mich. No motorized vehicles are allowed on the island.
Imagine a place that hasn't allowed motorized vehicles — except for the occasional snowmobile in winter and for emergency services — since the advent of the automobile. 
That's right. Michigan's Mackinac Island has been a no-motor zone since 1898, a tradition of tranquility and slower-pace living that has enticed visitors ever since. 
You'll take a ferry or small aircraft to this tiny island during warm months. In the winter, there's an ice bridge over which you'll travel via the aforementioned snowmobiles. 
Once there, stroll down streets lined with turn-of-the-century structures that will have you forgetting about the modern world one slow step at a time. 
Accommodations on Mackinac are equally charming in their historic allure. You'll have your choice of cottages, bed & breakfasts and resorts that will only add to your relaxing time there. 
Dining choices range from formal settings with haute cuisine to classic burger-and-fries shacks reminiscent of your parents' youth. 
Be sure to rent a bike if you want to cover the 8.3 miles of road and trails around the island. Rental shops are plenty and reasonably priced. 
While many attractions and other experiences are closed for the winter, those that stay open welcome "fudgies" (the locals name for visitors who adore the island's popular fudge) in search of a blustery winter retreat replete with crisp, sea air and roaring fires. Be sure to check ahead to learn which businesses are open, since most close by the end of October. 
If you're planning to squeeze in a trip this fall, be sure to check out the Mackinac Island Halloween Weekend, an All Hallows' Eve celebration that marks the traditional end of the season. 
And to those whot traverse the Mackinac ice bridge, be sure to send us some pictures and video so we can share your icy act of bravery with others. 
NEW YORK
Rochester is cool! Seriously, it is!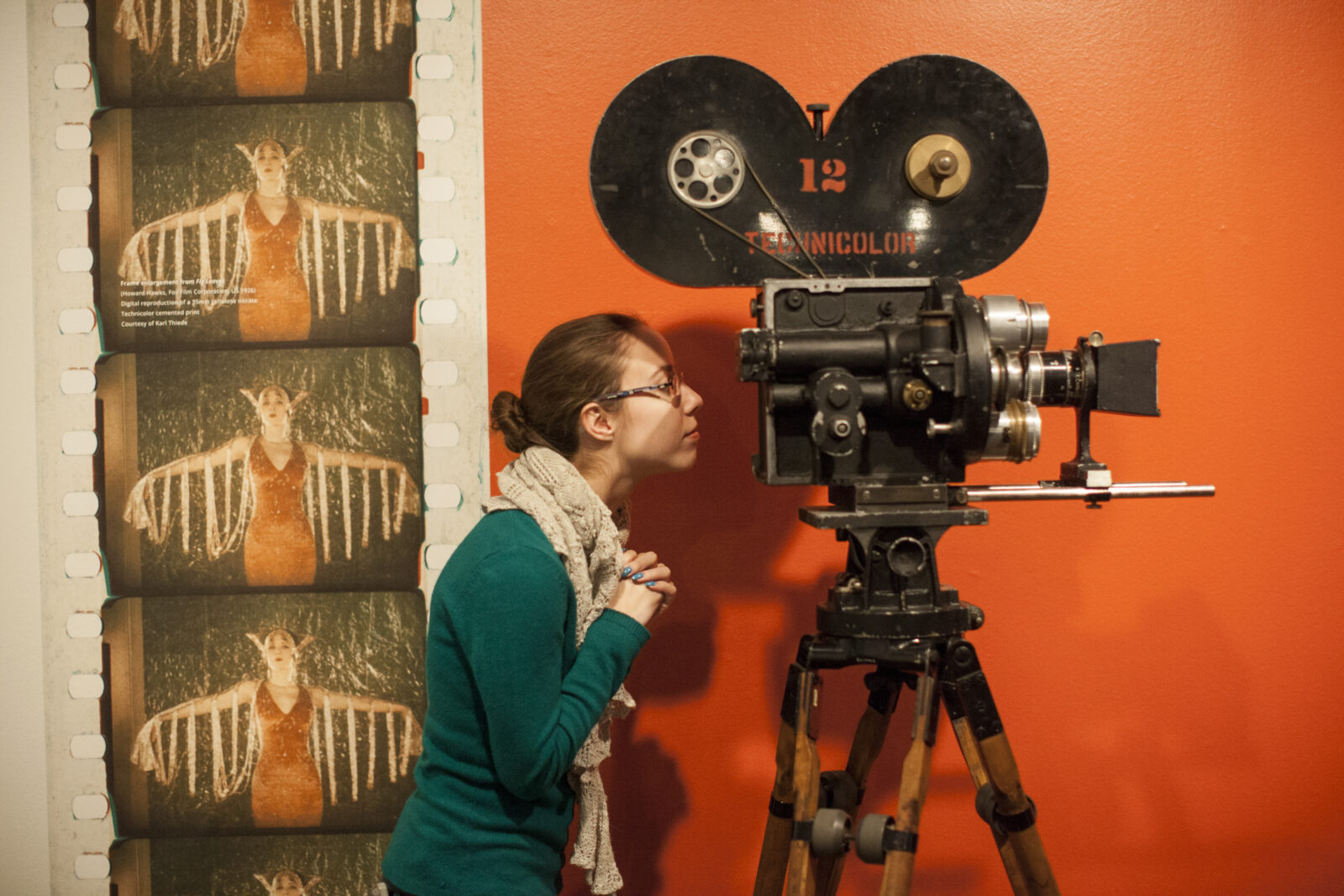 George Eastman Museum // Mattwittmeyer.com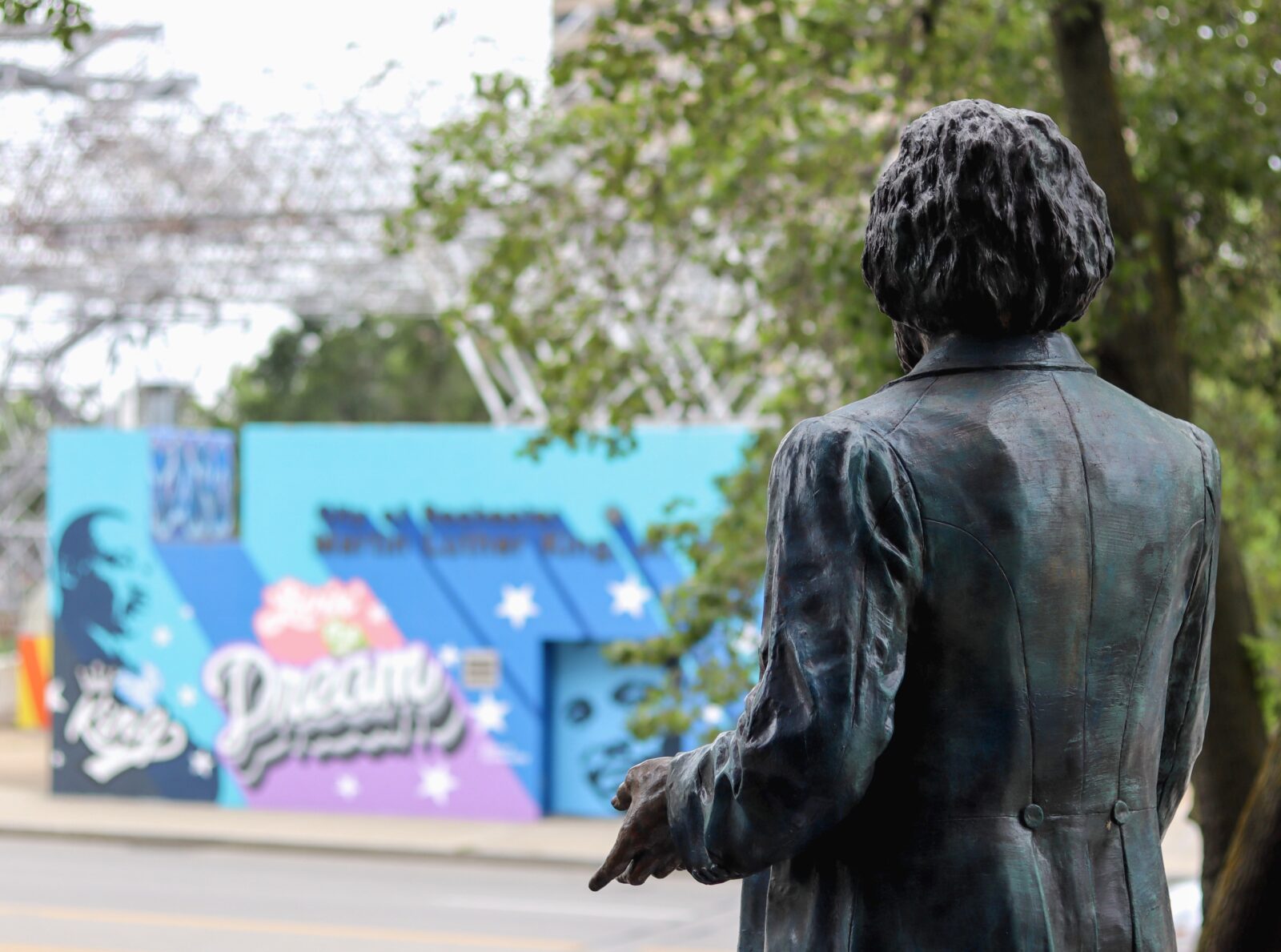 Douglass Statue Overlooks Mural in MLK Park. // Visit Rochester
Rochester, quite unfairly, often plays fourth fiddle in New York behind the Big Apple, Buffalo, and the state capital, Albany. 
But this Western New York gem on Lake Erie has much to offer in terms of arts and fine eats. The city is known for its mix of renowned art collections and supportive artist collectives. 
Once the home of the Kodak camera empire, employing tens of thousands who pioneered do-it-yourself photography (the great, great, great grandfather of the smartphone in your hands/pocket), Rochester is proud of its mark in global image-making. 
Photo buffs will especially love the George Eastman Museum, named for the founder of Kodak. As the world's largest museum dedicated to photography, its collection dating to the earliest days of photography is beyond comparison. That alone is enough to qualify Rochester as certifiably "cool." 
The city is also home to ARTISANworks, a nonprofit art collection of some 50,000 items housed in a large, renovated factory building that also serves as a regional artist incubator. 
That it touts itself as "one of the few self-funding not-for-profit art organizations in this country that exists without government aid" means there must be many art appreciators in the Rochester area — and it also might be a good place for young artists to set up shop. 
When it comes to dining, Rochester is known for having an eclectic mix of cuisines offering locally-sourced fare and dishes from around the world. Lento serves farm-to-table dishes prepared with local, seasonal produce. This award-winning eatery is among Rochester's most beloved. Small Italian eatery Rocco is known for Italian classics in a dining room so intimate you'll feel like you're back at grandma's house. 
https://www.visitrochester.com/
ALABAMA
Space Out in Alabama at the US Space & Rocket Center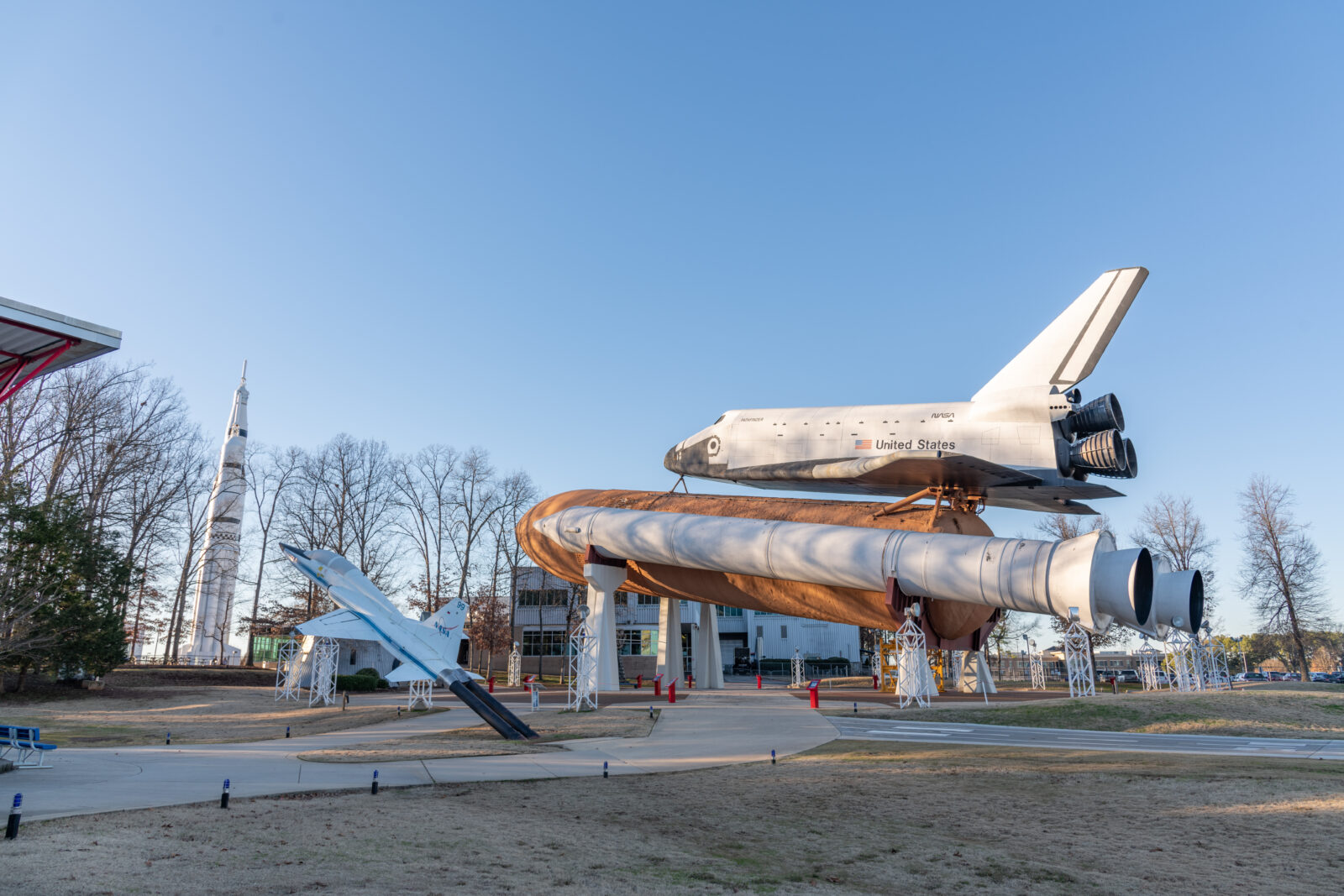 Shutterstock
Did the kid in you who wanted to rocket to space never really grow up? 
Indulge your inner little dreamer at the U.S. Space & Rocket Center in Huntsville. A Smithsonian affiliate and visitor center for NASA's Marshall Space Flight Center, it boasts one of the largest collections of rockets and space memorabilia found anywhere in the world.
Huntsville was solely known as the "Watercress Capital of the World" until the 1950s, when rocket scientists led by Dr. Wernher von Braun (fomerly a developer of rocket technology in Nazi Germany) put Alabama's largest city on the map when they put the first man on the moon. 
There's so much to see and experience at the center that you'll start scheming ways to fulfill those childhood dreams of living among the stars. 
Get a sense of life aboard a space station in ISS: Science on Orbit. It's a model of NASA's Payload Operations Integration Center, where scientists and engineers on Earth manage the science experiments that astronauts conduct on the International Space Station.
Check out an authentic Saturn V rocket, like those that sent Apollo astronauts to the moon at the Saturn V Hall of the Davidson Center for Space Exploration.
You'll also learn about the future in commercial space ventures and the latest technological innovations. Future astronauts (ask if they'll let big kids like you tag along) explore the Martian surface at KidSpace. 
Plus, there are traveling exhibits from around the world regularly featured at the center, so check ahead of time to see what will be there when you touch down in Alabama.