Event - Advancing Ambition
~
By Staff
---
SUMMARY
Postindustrial brings a pressing news issue to a live event: An afternoon of discussion and networking focused on how we can build a stronger workforce, with an emphasis on cybersecurity and education
Date and time — Tuesday, October 18, 2022, 11 am – 3 pm EDT
Location — Piedmont Park's Magnolia Hall
---
---
---
---
---
There are thousands of unfilled cybersecurity roles across the country – and there aren't enough candidates to fill those jobs. 
Postindustrial is bringing a crucial issue in the news to a live conversation. You'll hear from leaders working to solve the problem and gain insight into how we can help grow a cybersecurity workforce, during National Cybersecurity Awareness Month.
Our moderator leading discussion for the day is Daryn Kagan — you might remember Daryn from her more than 12 years as an anchor on CNN.
Today, Daryn is a syndicated newspaper columnist for Cox Newspapers. She's also a contributor to national platforms such as "CBS Sunday Morning with Jane Pauley." And she recently became executive director of Just One More, a foundation dedicated to giving second people chances.
Our lunch time keynote is Justin Daniels, an Atlanta-based attorney, author, and podcast host. He'll speak on "Reimagining Data: Building Trust One Byte at a Time"
As a shareholder in the law firm Baker Donelson in Atlanta, Justin helps clients address cybersecurity as a business enterprise risk. He's also the author of the forthcoming book, "Data Reimagined: Building Trust One Byte at a Time," and host of the podcast She Said, He Said, about the ways that privacy and security impact business. Justin is also a TEDx and national keynote speaker.

MEET THE PANELISTS
– Penny Rogers Collins, president & CEO, Women in Technology
– Charlie Nguyen, vice president of Cyber Security Enterprise Solutions, DeVry University
– Barry Hensley, chief threat intelligence officer, SecureWorks
– Dave Williams, an author and presenter who has spoken on the future of war and the evolution of cyber warfare at venues that include the Library of Congress and the National Academy of Sciences
– Scarlett Howery, vice president of partnerships, DeVry University
– CaMia Jackson, Democratic state representative for District 153 in Georgia, and cybersecurity and cloud migration IT project manager 
– Cyrus Walker, principal of data defenders, LLC a cybersecurity advisory services firm based in Chicago. Cyrus is an internationally recognized and published expert on electronic voting security
– Vijay Madisetti, professor in the College of Engineering, School of Electrical and Computer Engineering, Georgia Tech
---
---
---
---
---
JOIN US FOR PANEL DISCUSSIONS ON
– The cybersecurity-to-jobs pipeline, and creating a diverse workforce
– The growing cybersecurity threats to organizations
– How Georgia became a leader in cybersecurity — and what lies ahead
---
---
---
---
---
---
---
---
---
---
Join us for lunch, and networking as Daryn leads the day's discussions at Magnolia Hall in the heart of Piedmont Park. Stay after discussions wrap for networking and dessert!
This event is designed for an audience of cybersecurity professionals, educators, and other community stakeholders.
This event is presented by Postindustrial Media. 
Special thanks to The Guarisco Group, and to sponsor Gilford, Harrell, Summerfield & Martin
---
---
---
---
---
---
---
---
---
---
Postindustrial is an independent, journalism-first, multimedia outlet covering regions once highly industrialized and efforts to reimagine them for a new era. Postindustrial focuses on storytelling to elevate culture, economy, innovation, and new ideas via print, e-newsletters, video, podcasts, and events.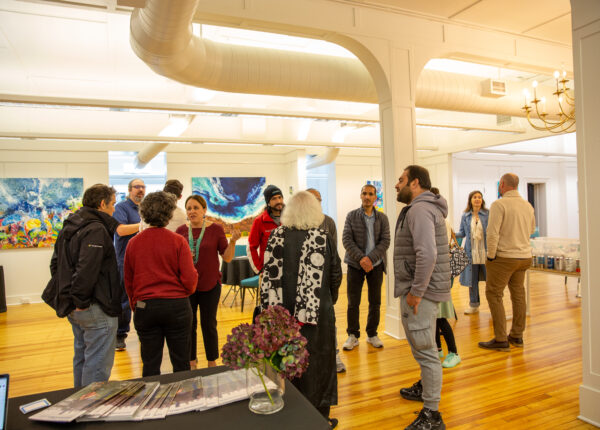 By Staff | Photographs by Hong Sar
By Staff | Photographs by Elijah Nouvelage