Day Nine: The new national park not everyone is thrilled about
~
By Carmen Gentile
---
Climbers tackle a rock face in the New River Gorge National Park, a popular destination for many outdoor activities. (Photograph by Carmen Gentile)
Fayetteville, West Virginia — We put Charleston in our rearview mirrors in search of natural  beauty and a man-made creation that's been attracting tourists and thrill-seekers for decades. 
About an hour southeast of the West Virginia capital we find both in the country's newest national park: New River Gorge. 
This more than 70,000-acre national refuge is an idyllic spot for whitewater rafters, rock climbers, hikers, and just about anyone with a passion for dramatic outdoor scenery.
The New River Gorge Bridge, a steel arch bridge near Fayetteville, W.Va., part of the New River Gorge National Park, in the Appalachian Mountains. (Photograph by Lindsay Plaskett)
Yet not everyone is as pleased as you may imagine that there's a new national park in their backyard. 
"Fayetteville used to be a place you came to to get away from somewhere, but now it's a place you come to be somewhere," said Karen Domzalski, a registered nurse who grew up in Texas but moved to West Virginia nearly 20 years ago for the rock climbing and natural splendor. 
Domzalski and her partner, Kevin Umbel, a contractor and artist from Ohio who's also a climber, say the park isn't a hit with the generational locals. He notes some people feel marginalized in their own backyard since the new national park designation last year. 
"The whole park thing has really rubbed some people from around here the wrong way," says Umbel, 42. 
Kevin Umbel, left, and Karen Domzalski, right, at New River Gorge National Park in West Virginia on Sunday, May 24. They both settled in West Virginia from other states. (Photograph by Carmen Gentile)
The problem is, they tell me as we gaze at the sweeping, 1,700-foot-long New River Gorge Bridge, that out-of-towners are scooping up properties in and around Fayetteville, turning them into Airbnbs and other attractions that marginalize those living here for generations. 
It's true that there's been plenty of buzz around Fayetteville in recent years regarding its reputation and the cool, little town with nice restaurants, bars, and coffee shops, and an Asheville vibe. 
"These out-of-towners and remote workers aren't contributing to the tax base. What good are they doing West Virginia?" asks Domzalski, who's quick to note that she herself is a transplant but one with a deep, personal connection to the community. As a nurse, she's seen her share of suffering in this part of West Virginia by way of the one-two punch of opioid addiction, then the pandemic. 
West Virginia is however making a concerted effort to increase the tax base by attracting new citizens. However the way in which the state's doing it — offering would-be digital nomads $12,000 each to move to the Mountain State — isn't as popular among some folks as you might imagine. 
"Don't get me started on that (financial incentive for digital nomads) shit," barks Domzalski. "The fucking locals can't afford to live here anymore and now they're paying outsiders to move here?" 
She also has loads of strong opinions and stories from the healthcare frontlines that I promise myself I'll mine once I'm off the road. 
But for the moment, we just soaked up these stunning sites and began planning for our return, perhaps later this summer, to do a little whitewater rafting, climbing and more. No matter where you stand on the park issue, this is too gorgeous a piece of scenery to miss. 
Journalists Carmen Gentile and Jason Motlagh at New River Gorge National Park in Fayetteville, W.Va., on Sunday, May 23, 2021. They're riding Royal Enfield motorcycles through the Rust Belt & Appalachia. Motlagh is on assignment for Rolling Stone. (Photograph by Matt Cipollone)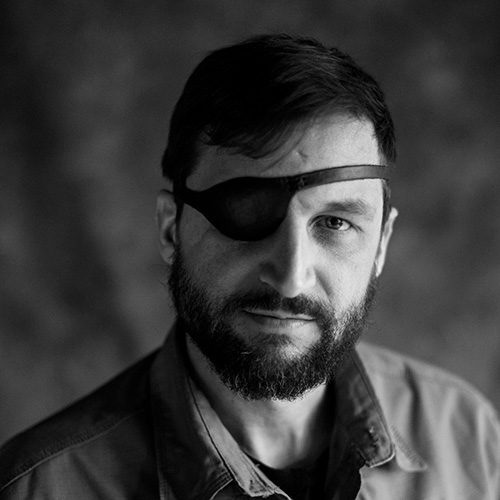 Carmen Gentile is founder and editor-at-large of Postindustrial. He has worked for some of the world's leading publications and news outlets including The New York Times, USA Today, CBS News and others. His book, "Blindsided by the Taliban," documents his life as a war reporter and the aftermath of his brush with death after being shot with a rocket-propelled grenade in Afghanistan.
Read the full story of this journey through the heart of Postindustrial America. Subscribe today and you'll receive our print magazine in which we'll chronicle this trip with more details, plus access to Postindustrial's full range of podcasts, digital content and more.