Democratic nominee for U.S. Senate Sen. Raphael Warnock speaks during a news conference, Thursday, Nov. 10, 2022, in Atlanta. Warnock is running against Republican Herschel Walker in a runoff election. (AP Photo/Brynn Anderson)
Breaking down the midterms
Postindustrial talks to a political science professor who says, it's not quite over yet, but the voters still spoke with force
~
By Staff
---
Georgia's head-grabbing Senate race pitting Democratic incumbent Raphael Warnock against former professional football player and Trump favorite Herschel Walker is headed for a December runoff. 
What we know from these races is that democracy won the day, as many of the election-denier candidates who lost have conceded their races.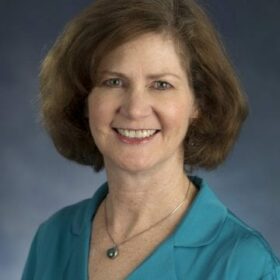 Jennifer McCoy, a professor of political science at Georgia State University and nonresident scholar at the Carnegie Endowment for International Peace, agrees that no matter who wins or loses the rest of the undecided races, the democratic process was the victor. 
We asked her to give us her other takes on the elections and what the results mean for the health and well being of our political system and nation. Her comments were edited for clarity and length. 
Postindustrial: So, what do you think of the results so far? 
McCoy: I think that it was definitely a win for democracy and for the Democratic Party in two different ways. For the Democratic Party, of course, because they defied expectations and historical patterns, not that they won any large bodies necessarily. But simply defying those expectations was a win for them in terms of democracy because there were defeats in some places of election deniers and some of the more radical Trump candidates. 
That is a win for democracy. And I think it shows that democracy was actually on the table for voters. 
But the other thing that I found very interesting was that women's rights and abortion seemed to be much more of a driver than either polls or media reporting and pundits had indicated, and that the turnout by women looks to be very high. So I think that it really is important to keep in mind what we were talking about in this case: the first right to be removed from Americans in recent years.
Postindustrial: Generation Z came out in a big way in this election, buoyed by their concerns about abortion. And I think that they were also galvanized by student debt relief and the perception that their future was on the line. Do you see it that way?
McCoy: Yes, definitely. And that's also a good sign for democracy. So overall, in terms of the country winning, in terms of democracy, in terms of youth participation, not alienation, that's very important for the country going forward. 
On the other hand, I think that the very close results at a number of levels also show that the country remains highly divided. We have got to find ways to address this. 
And it doesn't mean that Trump is written out of the picture or that people who still believe the election fraud myth or other kinds of conspiracy theories have changed their minds. And that is not a good sign for democracy.
Postindustrial: Let's take a closer look at Georgia. It came down to Georgia for control of the Senate in 2020. This year, Democrats once again retain control of the Senate despite myriad "red wave" predictions. The 2020 Georgia races were super close. Same with the Warnock-Walker contest. What's happening in Georgia politics? 
McCoy: I think we can give Stacey Abrams a lot of credit. She obviously lost this election definitively, but she spent the last decade really trying to make Georgia more inclusive in terms of registering voters and making voting accessible to all Georgians.
It's also a demographic change in Georgia. A lot of people are moving to Georgia. The state has a booming economy right now. It attracts diverse populations. So there's change going on in Georgia that makes it more competitive in terms of [political] partisanship.
[But] I think it's really important looking at the bigger picture and not just the horse race of who actually won one specific race. That's why I'm saying democracy won as a whole.