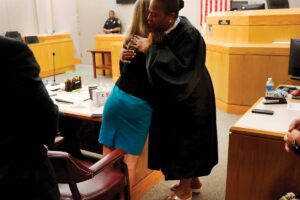 [section label="Episode" bg_color="rgb(255, 255, 255)" padding="0px" padding__sm="0px" padding__md="0px"]
[row style="collapse" h_align="center"]
[col span="7″ span__sm="12″ span__md="10″ margin="0px 0px 30px 0px"]
[/col]
[col span="7″ span__sm="12″ span__md="10″ padding="0px 0px 0 0px" margin="0px 0px 30px 0px" class="imagecaption"]
[ux_image id="15732″ image_size="original" width__sm="100″]
Judge Tammy Kemp, hugs convicted killer, Amber Guyger, after her conviction of murdering, Botham Jean.
[/col]
[col span="7″ span__sm="12″ span__md="10″]
[title text="In today's episode:" tag_name="h4″ margin_top="0px" margin_bottom="10px" size="75″ class="todaysepisode"]
[row_inner class="podcastbody"]
[col_inner span__sm="12″]
Amber Guyger, the off-duty police officer who murdered Botham Jean in his Dallas apartment, has been found guilty and sentenced to ten years in prison. The trial's resolution — and surprising displays of emotion in the courtroom — have sparked almost as much reaction as the crime itself.
[/col_inner]
[/row_inner]
[divider width="100%" height="1px"]
[block id="11698″]
[/col]
[/row]
[/section]