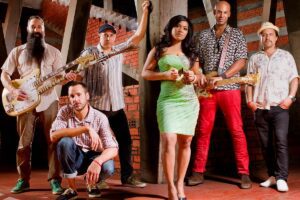 [section label="Episode" bg_color="rgb(255, 255, 255)" padding="0px" padding__sm="0px" padding__md="0px"]
[row style="collapse" h_align="center"]
[col span="7″ span__sm="12″ span__md="10″ margin="0px 0px 30px 0px"]
[/col]
[col span="7″ span__sm="12″ span__md="10″ padding="0px 0px 0 0px" margin="0px 0px 30px 0px" class="imagecaption"]
[ux_image id="15372″ image_size="original" width__sm="100″]
© Marc Walker
[/col]
[col span="7″ span__sm="12″ span__md="10″]
[title text="In today's episode:" tag_name="h4″ margin_top="0px" margin_bottom="10px" size="75″ class="todaysepisode"]
[row_inner style="collapse" class="podcastbody"]
[col_inner span__sm="12″]
On this week's CitySpeaks podcast, Pittsburgh City Theatre's Director of New Play Development, Clare Drobot, speaks with Senon Williams, bassist of the Cambodian surf rock band Dengue Fever, whose music helps to build the backdrop of Cambodian Rock Band.
Cambodian Rock Band is the thrilling new play — and part electrifying rock concert — that's an epic tale of family, love, and heritage, with live performances showing through October 6, at City Theatre on Pittsburgh's South Side.
Get your tickets today!
Read a review of the show from the Pittsburgh Post-Gazette
[/col_inner]
[/row_inner]
[button text="BUY TICKETS" size="xsmall" link="https://citytheatre.culturaldistrict.org/production/62854/cambodian-rock-band" target="_blank"]
[button text="More Infomation" style="outline" size="xsmall" link="https://citytheatrecompany.org/play/cambodian-rock-band/" target="_blank"]
---
CAMBODIAN ROCK BAND By Lauren Yee Directed by Marti Lyons
September 14 – October 6, 2019
citytheatrecompany.org

[divider width="100%" height="1px"]
[block id="14430″]
[/col]
[/row]
[/section]