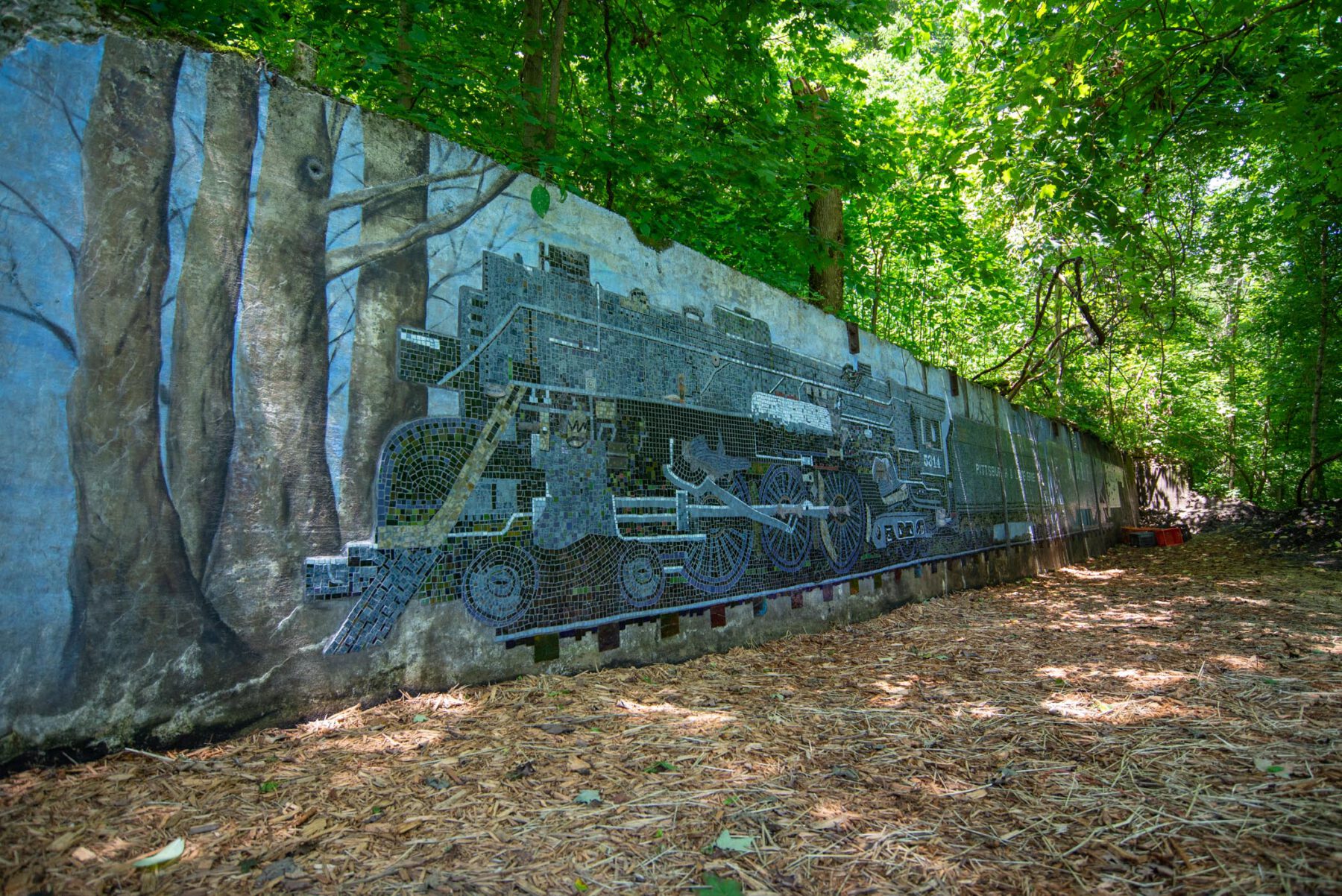 A mosaic of a coal miner at The Ruins Project, in Whitsett, Pa. Artist Rachel Sager created The Ruins Project, an outdoor mosaic museum, that commemorates the heritage of the region. The property is located along the Great Allegheny Passage, a 150-mile trail stretching from Pittsburgh, Pa., to Cumberland, Md. More Americans are expected to take to trails as the warm weather hits and communities reopen, albeit with face masks and social distancing in place. (Photograph/Cindy Meixel)
A mosaic of a coal miner at The Ruins Project, in Whitsett, Pa. Artist Rachel Sager created The Ruins Project, an outdoor mosaic museum, that commemorates the heritage of the region. The property is located along the Great Allegheny Passage, a 150-mile trail stretching from Pittsburgh, Pa., to Cumberland, Md. More Americans are expected to take to trails as the warm weather hits and communities reopen, albeit with face masks and social distancing in place. (Photograph/Cindy Meixel)
In the ruins of a former coal mine, a museum rises in rural Pennsylvania
The Ruins Project along the Great Allegheny Passage tells stories in mosaic
~
By Kimberly Palmiero
After weeks of closures, most states in Postindustrial America are gradually opening and millions of people will herald the unofficial start of summer.
Rules vary from state to state. But at a time when people are generally bursting out after a long winter, the sight of just about everyone wearing facemasks and warily eying the distance between us and them is a stark reminder that it's not just another summer.
Trails across Postindustrial America might be more crowded than ever as indoor venues are limited or closed.
In Appalachia, the 150-mile Great Allegheny Passage winds through communities from Pennsylvania to Maryland. Some of those communities have a colorful past that otherwise might not get so much traffic — towns like Whitsett, Pa., population about 200.
Mosaic artist Rachel Sager opened The Ruins Project in that patch of a town where coal once created prosperity.
She's turned the ruins of a former coal mine into an outdoor museum for artists to create stories in mosaic of the region's heritage.
"I pretty quickly saw a potential for it to be a canvas for our kind of art," Sager said. "I'd been teaching the kind of mosaic that uses the classical language of the Romans and the Greeks…it's based in the old language and the old tools but I use the local language, the Pennsylvania shale and sandstone, and I use my voice."
Sager reopened to visitors on Saturday. Tours can be booked through the website, limited to 15 people at a time.
A longer version of this story will appear in Postindustrial's magazine. To subscribe, click here.