People line up outside a polling place to vote in the 2020 general election in the United States, Tuesday, Nov. 3, 2020, in Springfield, Pa. (AP Photo/Matt Slocum) Voter turnout surged as high as 72% in 2020, but since the 1950s the percentage of eligible voters who cast their ballots for president hovered between 50 and 57%. However, the U.S. often trails other developed countries in voter turnout.
A (hopefully helpful) guide to better Postindustrial living
If the last several months of turmoil has taught us anything, it's that we need to figure out how to be cooperative members of a global community — starting at the local level
~
By Carmen Gentile and Kimberly Palmiero
---
The way we see it, better Postindustrial Living starts with the individual and works its way outward. 
That means being a better neighbor, an active member of your community, a regular participant in city, state, and national politics, and a responsible global citizen with an eye toward the big-picture challenges facing everyone. 
In journalism, every story is, at its heart, a local one (see below "7. Support Local News") affecting people in deeply personal ways. 
The same goes for the dilemmas we face today, from our own homes to humanity writ large. If we're going to thrive following these troubled times, we must figure out how to work together to solve these and other dilemmas. In fact, finding common ground to work together productively may be the biggest challenge we face in a nation deeply divided along political, economic, and cultural lines.
In that spirit, we compiled the following list of ways in which we hope to improve how we participate in our communities, Postindustrial America, and beyond. It's an excerpt from an upcoming book we've written about how to solve bigger problems. Sometimes, we can start small. Start where you live. 
At the risk of reading like pedantic teacher's pets telling others what to do, here are some of our best suggestions for how we hope to improve our day-to-day participation, and long-term living. These are time-tested, humble suggestions that have served previous generations well.
We're not trying to romanticize "what was" but merely to suggest we do what we can, where we live, by getting back to basics.
1. Be an engaged citizen: Take your civic duty seriously
Our democracy is made stronger by informed citizens who view their right to vote and participation in their government as a solemn duty and sacred responsibility.
One of the most important things we can do is vote. In every race. And don't just cast ballots along party lines. Read about each candidate. See where they stand on issues important to you. 
That's the least you can do. 
Want to do more? In addition to choosing competent leaders, become one. Run for office, be it school board, city council, or Congress. To start, attend your local school board and borough, township, or city council meetings. Ask to serve on a committee. Listen to other citizens. Do not simply protest. Learn how to become a decision-maker by giving of your time and intellect, for your community.
Local government plays an exceptionally important role in shaping daily life in thousands of towns. In small communities, these roles are often unpaid and rely on a cadre of committed citizens to shape the direction of policy.
When citizens are not fully engaged in studying candidates, reading local news (not social media), things go terribly wrong — hence our predicament with the presidency and Donald Trump's legion of ill-informed, sycophantic elected leaders living in a false reality of widespread election fraud and other such nonsense. 
2. Tend to a garden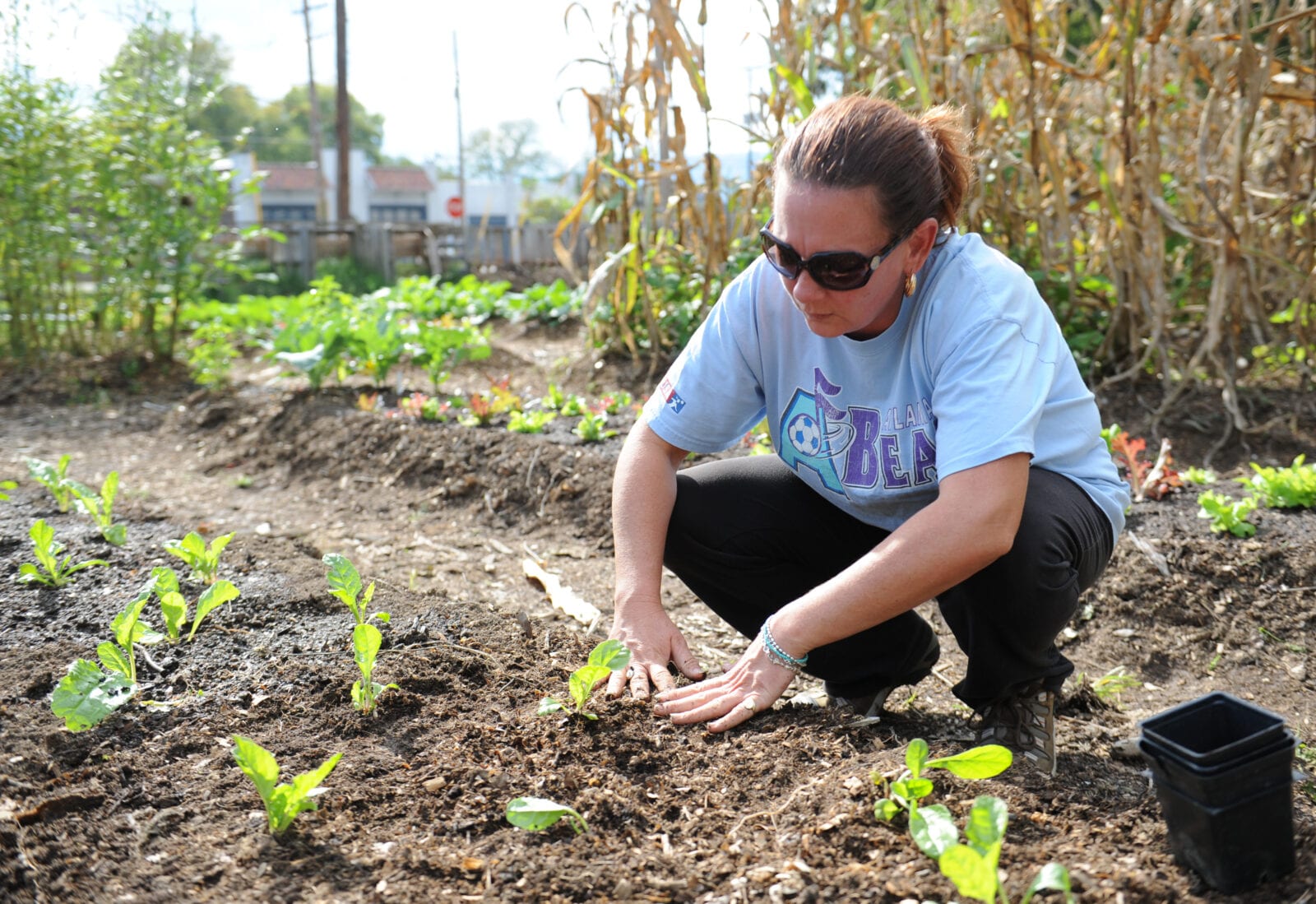 Becca Belcher plants Swiss chard in the Ridgedale Neighborhood Association's community garden at the intersection of Main Street and Watkins Street in Chattanooga, Tenn., in this file photo. The garden was started by the Fair Share Urban Growers in partnership with the Ridgedale Neighborhood Association and is an attempt to bring fresh produce in an area without any nearby grocery stores. // AP Photo/Chattanooga Times Free Press • Allison Love
Americans are removed from the process of how their food is produced. 
So, grow something — even if it's just one herb plant on your windowsill. A tomato plant potted on your porch or patio can yield enough fruit for many salads and even some saved for winter. 
The flavor of just-picked produce surpasses anything you could buy off a shelf or at a farmer's market (even though we support farmer's markets). And just-picked-and-eaten produce contains more nutrients than shelf-stored fruits and vegetables . Even in the coldest Postindustrial states you can generally raise produce from April (first greens and peas) to frost. 
Those with a yard and a yearning to cultivate more can raise chickens. Home gardening is increasing in popularity in the Rust Belt and Appalachian cities, which tend to have homes that come with at least a small patch of green space. If you don't have a yard, consider finding a vacant lot — maybe owned by your city — or part of a park and working to plant a community garden.
Throw away the notion that you need a wide patch of flat earth to raise a garden. A space roughly 200 square feet can grow enough to feed one person, depending on the climate and, perhaps most importantly, the quality of your soil. Consider growing food an extension of your home kitchen. 
An embankment might be just the spot for trailing melons, squash, and other vines. Wild strawberries spread rapidly and may even be cultivated as a groundcover. Tomatoes and many varieties of lettuce thrive in large pots. Cucumbers can trail up trees and fences.
If you are planting for the first time, take care to have your soil tested to determine if there are any contaminants in it, and also if the pH level should be adjusted.
All you really need is a little patience, good soil, and a willingness to learn. Support farmer's markets — but it's also rewarding to raise a garden where you live.
3. Take pride in your home
Aim to improve your living space.
Having a space of your own is a privilege. Whether you rent or own, your home is your castle, sanctuary, Batcave — whatever you want to call the place where you go to unwind and recharge. 
Improving your home is a benefit not just to you, but to your community. We find renovating homes and living spaces to be a stress-inducing, stomach-churning, and sometimes budget-stretching experience. At the same time, it's rewarding, profitable, and enhances the community.
However, with many of us working at home, the line between home and work life has been blurred to the point where we often can't see the difference between the two. And chances are, some of the work/home modifications we've made in the COVID age will continue once this is finally over, keeping more of us at home than ever. 
That's why it's especially important that we don't let our work lives dominate our living spaces. A home office is a reality, particularly now. But a home is supposed to provide a respite for you and your family from your work life, a place where you can enjoy the fruits of your labor. 
4. Self-care is essential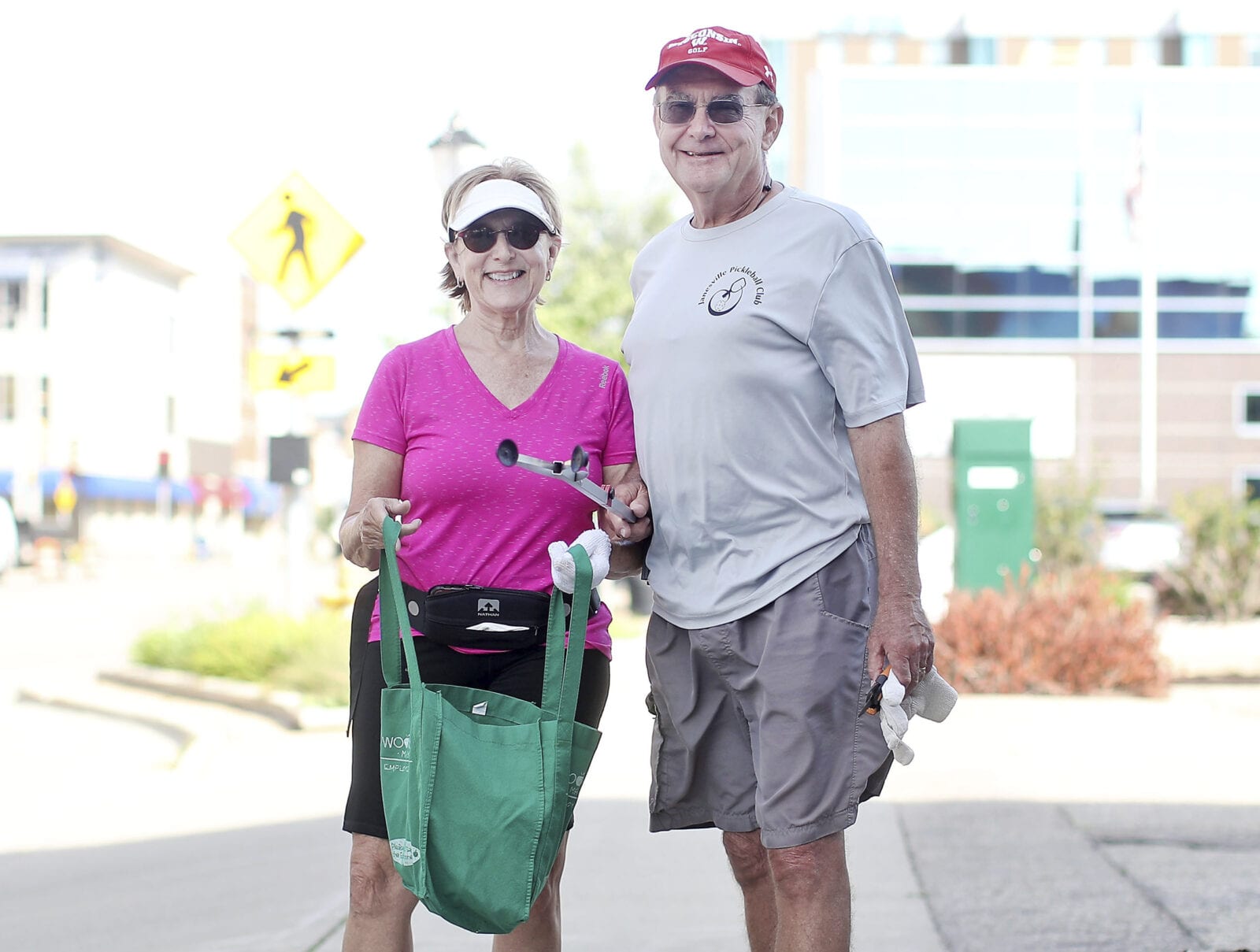 Ed and Chris Stried of Janesville have walked outside every day beginning March 24 to get exercise during this new age of COVID-19. As they walk, they pick up trash. Earlier this month, they estimated they had cleaned up 10,000 pieces of litter. // Anthony Wahl/The Janesville Gazette via AP Photos
Obesity is a big problem in Postindustrial America. The prevalence of obesity in America is about 42%, an increase over the 30.5% in 1999-2000, according to the Centers for Disease Control and Prevention. 
Additional weight brings increased risks of chronic health conditions such as diabetes and heart disease.
So, consider a commitment to improving your health an investment in yourself. 
It's a privilege, we know, to have the means to go to a gym, even pre-COVID, and to know how to stay or get in shape. Not everyone has access to a grocery store with fresh produce. Some of us don't even like fruits and vegetables.  
But those who can, can start where they live, doing what they can. 
Run laps up and down the steps with your family. Take in fresh air on daily walks. If you have a health-care plan, ask your doctor for guidance. Changing lifestyle habits is hard work — but work that pays off in ways that money cannot buy. 
Calisthenics are a great way to stay or get in shape. Squats, lunges, sit-ups, pushups and other body-weight exercises are an efficient and cost-effective way to get fit. Exercise doesn't have to require lots of special equipment. 
That means being deliberate about what we eat, too. While we all love the culinary delights specific to our respective regions — Tennessee barbecue is so good it's almost worth dying for — we must do a better job of moderating our intake. 
Said Hippocrates: "Let food be thy medicine." 
And no matter how much you exercise, without healthful eating habits, you won't achieve hoped-for results.
So, take this time to consider the way you eat. You've already been forced to cook for yourself more, rather than dining in and taking out. That's a good start. 
A great way to make sure you have a regular supply of fruits and veggies is to have them delivered. We rely on the Philadelphia-based Misfits Market (misfitsmarket.com) for some of our perishables. Misfits Market is a subscription-based food delivery service that specializes in providing discounted items. Weekly or twice-monthly deliveries of fruit, vegetables and other items will keep you supplied with produce. 
One more thing: Ease off on the booze. You know it's the right thing to do. 
5. Unplug together: Embrace experiences, not things 
As the creators of a multimedia outlet vying for your attention, these suggestions may seem unusual. 
But as said creators who spend more time staring at screens than we'd like to admit, we know the value of unplugging from our devices and engaging with one another. 
This is difficult to do safely during the pandemic. And with the availability of enough streaming content to keep anyone homebound for several millennia, the default for many — us included — has been to binge-watch until our eyes water. 
But consider ways to support arts groups in your community by attending virtual events. Museums, too, have gone virtual with some exhibits interactive and online.
We hope the advent of a vaccine will soon end our homebound days. When that joyous day arrives, we need to celebrate — not the end of the virus — but the beginning of a return to engaging one another in the "real world" and not via social media and Zoom meetings. 
6. Distinguish needs vs. wants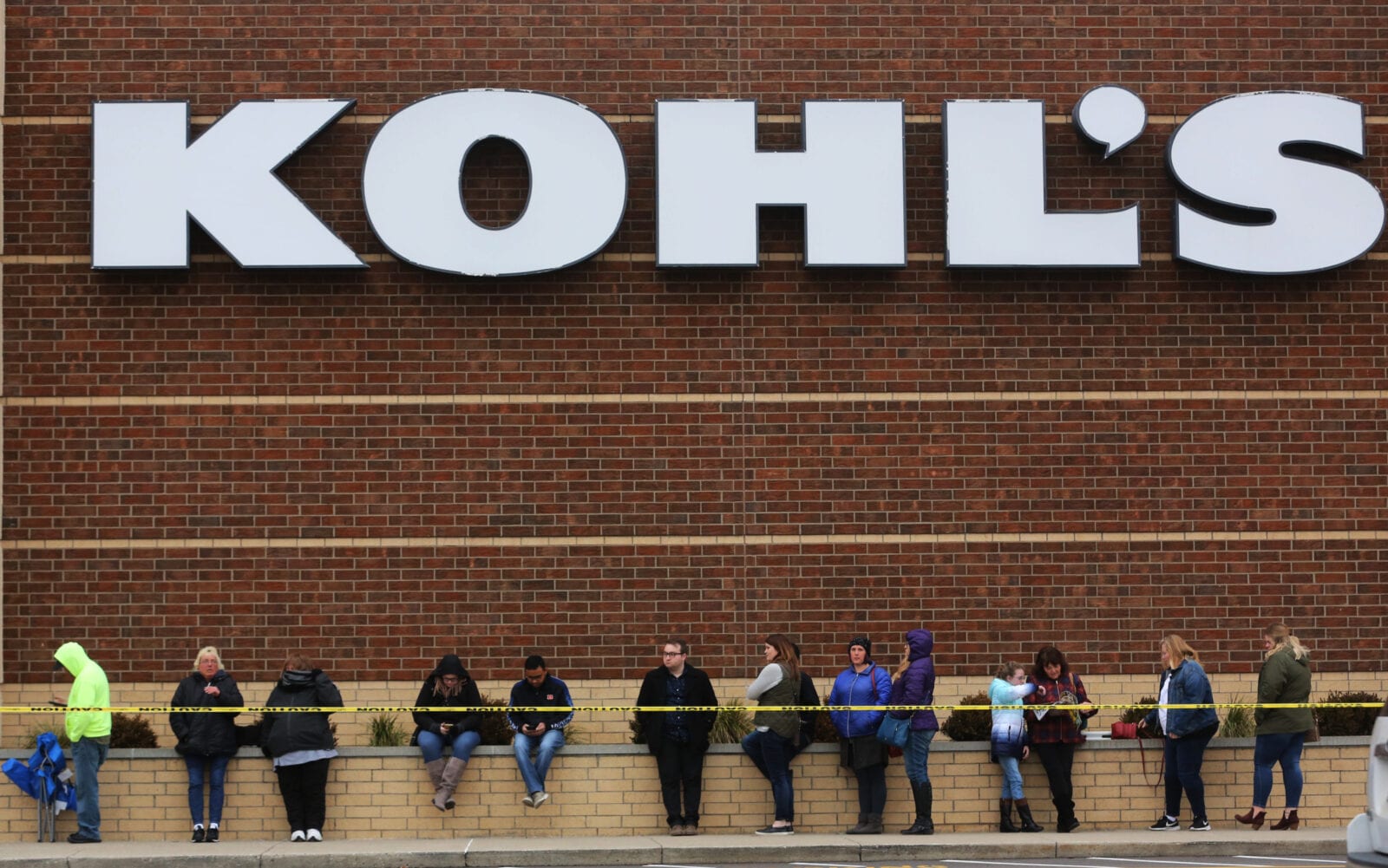 Remember this kind of shopping? Locals line up to go Kohl's store in Green Township, Ohio. On Nov 28, 2019, some shoppers waited all night for the store to open. We miss shopping too, but do we really need all that we buy? // Ernest Coleman • ZUMA Wire via AP Photo
Buy what you need, not what you don't. 
Consumerism helps the economy. We should support local businesses. But the ability to purchase, more and more, has evolved into a statement of social status. Why not cut back?
Almost half of all Americans carry credit-card debt, according to a survey by creditcards.com. 
The fact that there has been growth in the personal storage industry in recent decades is also both telling and troubling. 
We spend untold sums on monthly rental fees to store stuff we don't use. It's a national pastime that serves no one well. 
We're guilty of this too, having rented our fair share of storage spaces for things we rarely use because we formed unhealthy attachments to stuff from our past, blaming it on those items' sentimental value. 
Don't buy things you don't need. Spend more on experiences that bring you and your loved ones joy. 
Collect memories, not mementos. 
7. Support local news outlets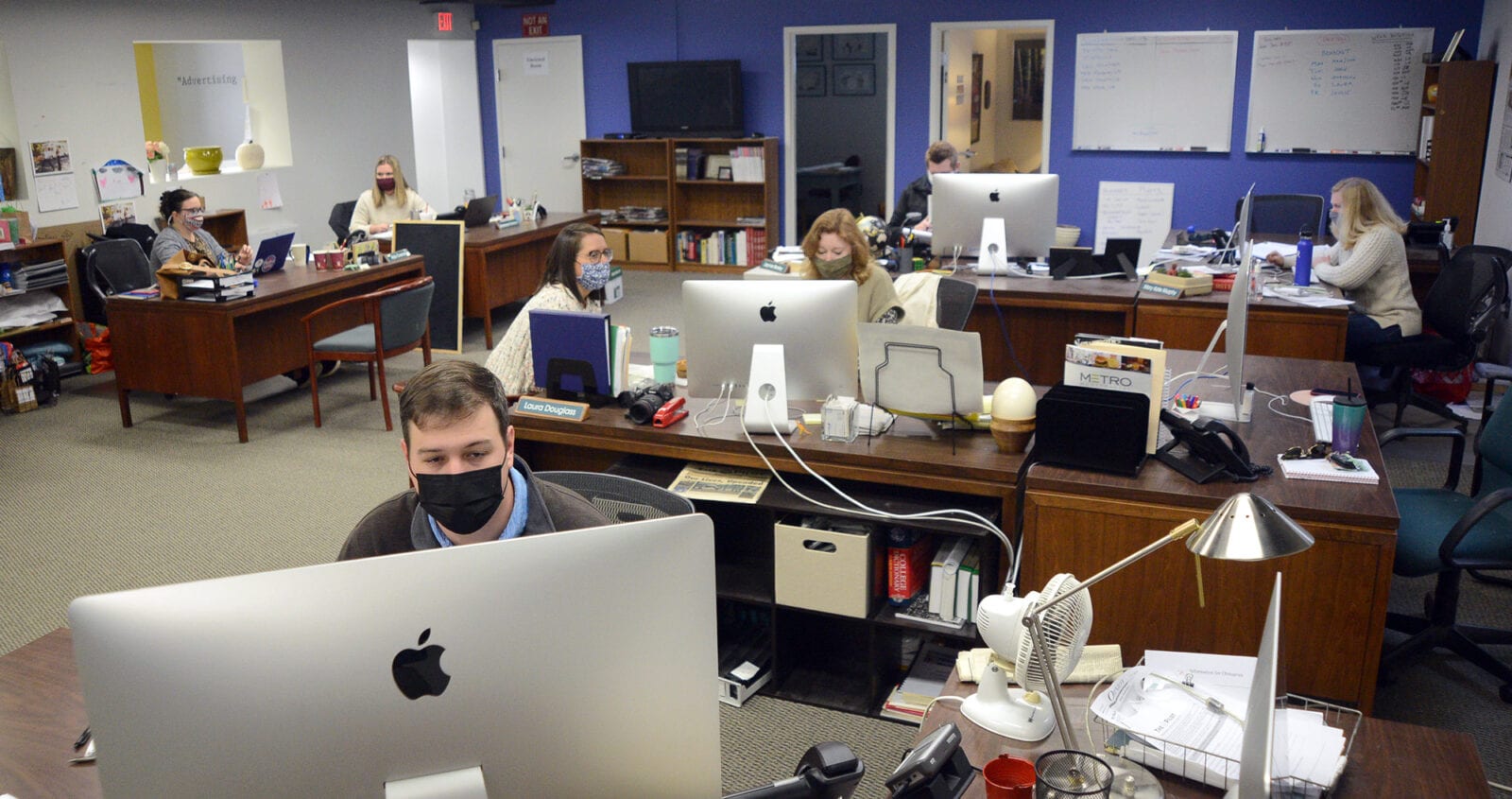 Support local news! The newsroom of The Pilot, a twice-weekly, century-old newspaper in Southern Pines, N.C., where about a dozen staffers cover community news in the Moore County area. // Photography provided by The Pilot
"All news is local" is a cliche because it's true. 
That bombing in some distant land making international headlines occurred in somebody's backyard and affects people there on a very personal, local level. 
The importance of local news providers is something we understand firsthand, having gotten our start at local outlets. And we take to heart the most important lessons learned while covering communities: Every story is, at its core, about people, be it a story about politics, economics, or a natural disaster. 
Local news providers are the lifeblood of the journalism industry and your community, and they collectively maintain the integrity of your town, state, region and nation. 
These local outlets inform you about developments essential to your day-to-day life, whether you recognize it or not. Don't believe us? One of the most important roles of any news media outlet is to hold elected officials accountable and keep you up-to-date with what they're doing with your tax dollars. 
Alas, many local news outlets are shadows of what they once were. And we're all the worse off for it. 
One reason why so many addle-minded lawmakers have made it to Capitol Hill in recent years is because local outlets that once took city council members, mayors, and state lawmakers to task have either shut down or been severely hampered by the loss of advertising revenue in the digital age. 
Now more than ever, it's imperative that you financially support local news outlets. 
Postindustrial is no exception. We rely on local newspapers, public radio, TV and web-based outlets to keep us informed about the stories that are affecting folks in places like Fort Wayne, Ind., Erie, Pa., Chattanooga, Tenn., and all points in between. We subscribe to more than a dozen media outlets throughout the Rust Belt and Appalachia. 
We also republish work produced by non-profit news media outlets such as  Wisconsin Watch and ProPublica to bring you important stories from other states. 
So, subscribe to the Indianapolis Star. Sign up for the Chicago Tribune. Pay for the Pittsburgh Post-Gazette. And be sure to contribute to your local public radio station. 
They're looking out for you. The least you can do is return the favor. 
8. Build and create items out of what you have
If you're of a certain age, you've had at least one grandparent who endured the Great Depression and, as a result, saved every inch of twine and piece of tinfoil that ever crossed their threshold. 
The Greatest Generation was also probably the most resourceful in the last century. They let very little go to waste. They even invented recycling by way of wartime efforts such as  collection of scrap metal and rubber for military vehicles and arms. 
But be careful not to let your newfound penchant for repurposing lead to overaccumulation (see 6. Distinguish needs vs. wants).
Try to train your eye to look for items you have that can be repurposed for other uses. An old door can become a radiator cover, or even a headboard. Or seek out used materials, which lend character to a place. Old doorknobs and other hardware are readily available, for example.
You can construct much out of very little and buy second hand. We want to support local merchants — and we encourage you to do so as well — but it's also gratifying to know we can be economical in our approach while still beautifying our surroundings. 
Said the great textile designer, novelist, poet, and activist William Morris: "Have nothing in your house that you do not know to be useful, or believe to be beautiful."
9. The highest good we can do is to help others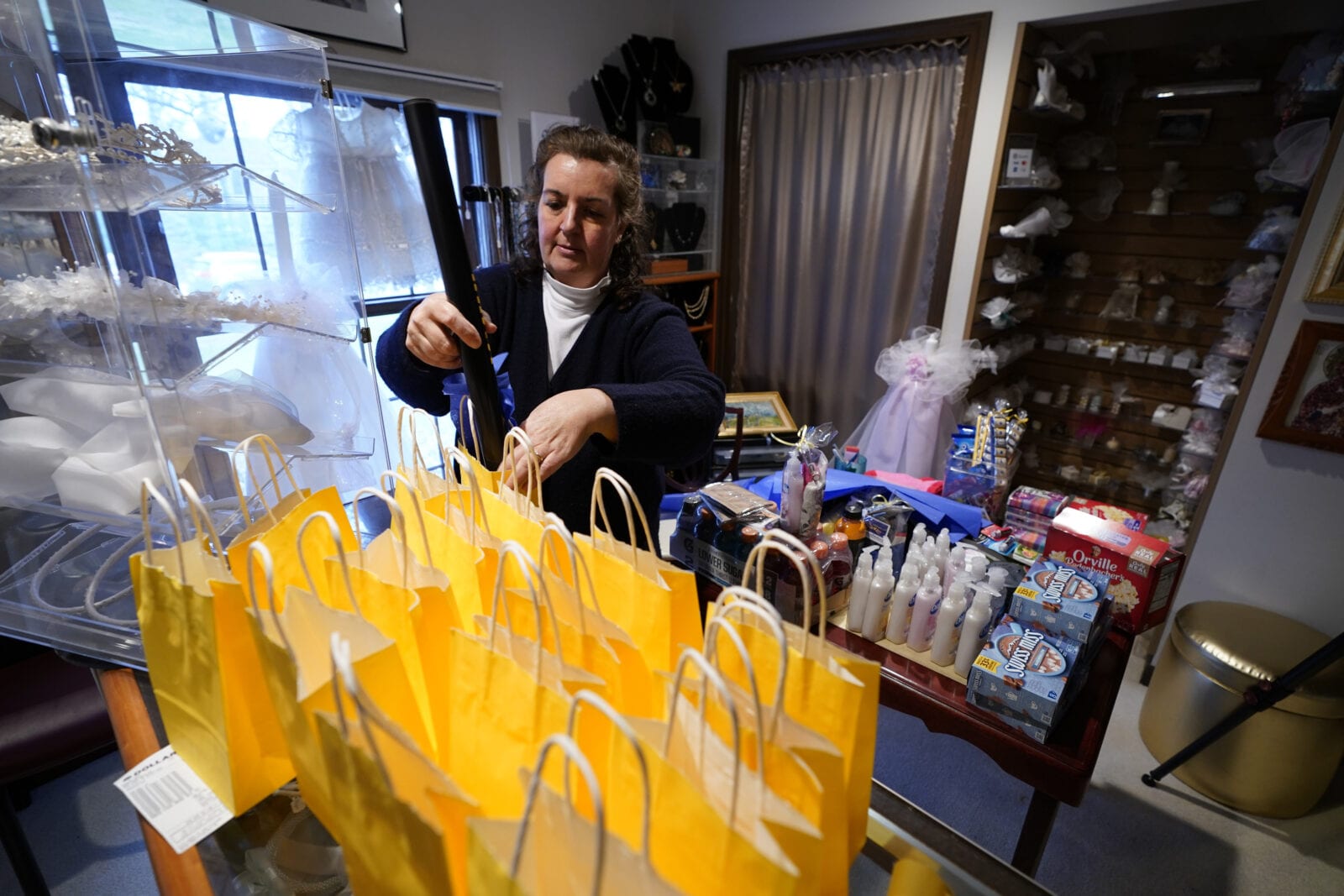 Volunteer Athena Papageorgiou packs student care packages in her home, Nov. 17, 2020, in Ann Arbor, Mich. A group of parents has come together to help support University of Michigan students while they are sick or quarantining. The group of mostly moms was started and is organized by Sherry Levine of Rye Brook, N.Y., who's also a mother of a Michigan student. After she spread the word on parent pages on Facebook, local volunteers stepped up to help fulfill student requests by dropping off groceries or supplies. // AP Photo • Carlos Osorio
As a group, Americans speak of fixing "the world," i.e., solving large-scale problems. That's a worthy goal. But what if, by working on the individual level, we immediately committed ourselves to supportive, positive acts that help bring greater freedom to everyone?
That might mean looking in on an elderly neighbor, and going out of your way to bring that person meals. In the midst of COVID, when many people could use something new to keep the mind occupied, start a virtual book club. Invite those who might especially be in need of company. Don't view these things as acts of charity — as one might with a once-a-year donation to a food bank. Instead, view these acts as part of being a resident of a community.
Is there litter on your street? Organize a group to keep your street clean. Does something need to be done? Go get it done!
Should you feel special after doing these things? No. You are applying your skills, time, and talent to improve your community on a micro level. Isn't that what we all should do? If we did, imagine how instantly different our communities would feel. 
Go out of your way to do these things where you see a need, and not always where you're comfortable. Seek out new people and opportunities where you might be useful — not just at, say, your church. 
Get outside of your bubble.
For sure, this doesn't come close to addressing large-scale problems like systemic and institutional racism. It won't make lines at food banks any shorter or help students pay for college tuition. But by going out of our way to manifest positive change on the micro level, we move closer to finding common ground — we hope — on more complex issues.  
Protests are fine. But who can you help today? Who is overlooked? 
What can you roll up your sleeves and accomplish today in your community?
10. Figure it out: Be resolute, committed, and resourceful
Too often, we take the easy way out by having someone else do what we could accomplish with a little research and elbow grease. 
Consider that when humans face scarcity — or when we feel constrained — we are more likely to find new ways to use what we have. Quite simply, because we have to.
So don't put off learning something you don't know how to do.
What can you build out of what you have? Cook? Create?
Every home should have a toolbox with the staples: hammer, ratchet set, screwdrivers, etc. We learn so much simply by acquiring new skills by trial and error. 
Hardship forces us to adjust, and ultimately can give rise to opportunities to help in ways we otherwise would not have chosen. 
On a larger scale, in the case of COVID, the sense of urgency around personal protection led some companies to pivot almost overnight. Companies and individuals began producing masks en masse. Some distilleries began producing hand sanitizer.
In the wake of a Black man's death under the knee of a white police officer, thousands of people demanded of their elected officials: We must do better. There are now hundreds of bills aimed to reshape policing in legislatures in eight Postindustrial states (we'll see what comes of them).
We can tackle small things in our own lives that we didn't know how to do, and we can take that same resolve and improve our communities as well.
What are we waiting for?
Let's go get it done.
Look for our book later this year.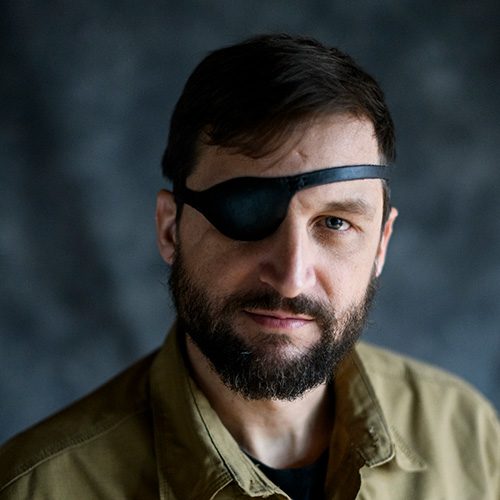 Postindustrial founder Carmen Gentile has worked for some of the world's leading publications and new outlets including The New York Times, USA Today, CBS News and others. His book, "Blindsided by the Taliban," documents his life as a war reporter and the aftermath of his brush with death after being shot with a rocket-propelled grenade in Afghanistan. Reach him at carmen@postindustrial.com.
Kimberly Palmiero is CEO & Editor-in-Chief of Postindustrial Media. She has more than 20 years of experience as an editor, project manager, and small business owner. She previously served as a managing editor for Trib Total Media in Pittsburgh, and also held editing roles with former Gannett news outlets. She is the immediate past president of the Press Club of Western Pennsylvania. Reach her at kim@postindustrial.com.