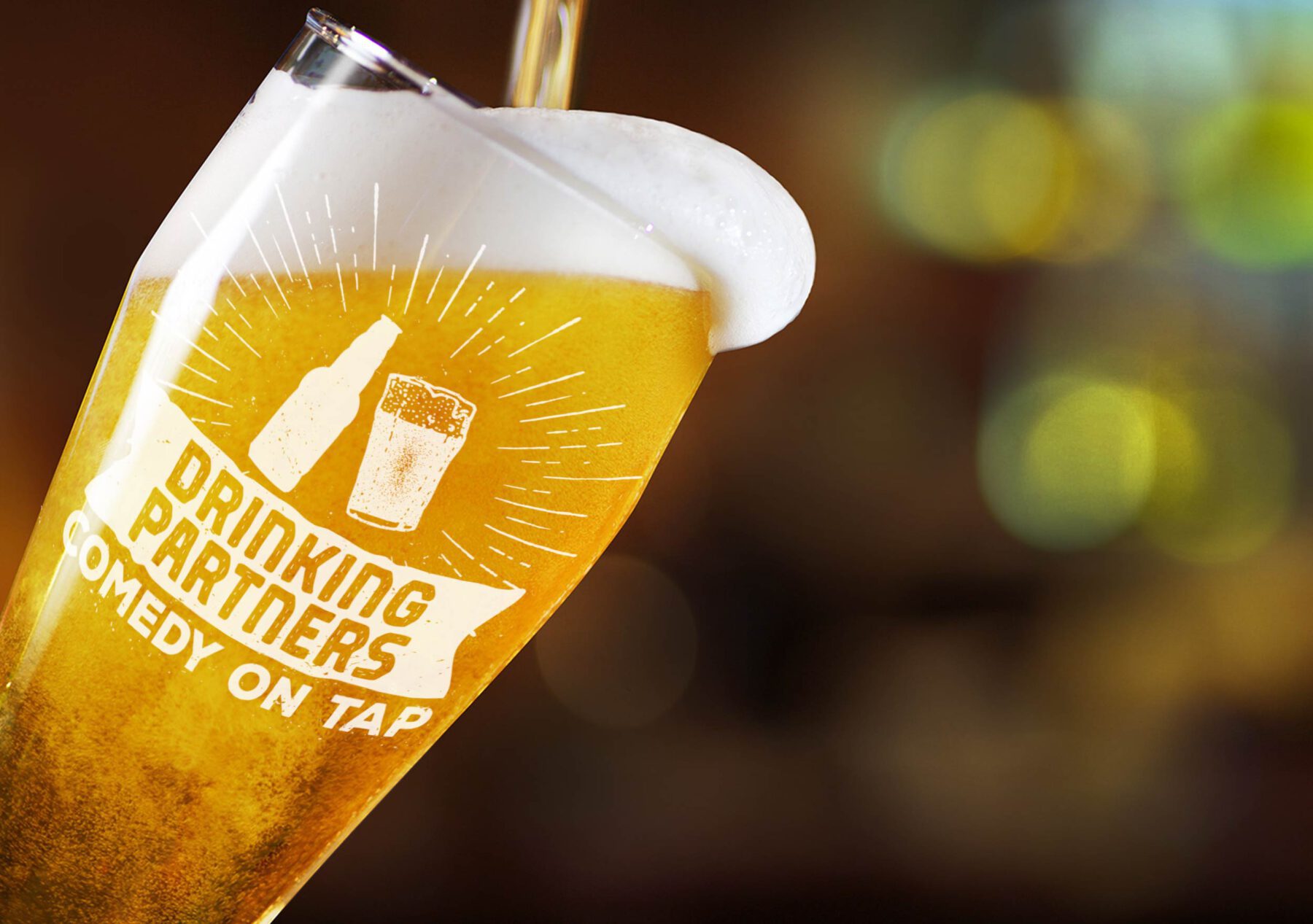 Drinking Partners
The Drinking Partners Podcast features comics Ed Bailey and Day Bracey swilling microbrews and engaging in dynamic and informative conversations with entertainers, politicians, and entrepreneurs from comedian Todd Glass to Pittsburgh Mayor Bill Peduto. The Drinking Partners are nothing short of highly addictive.
To advertise on this podcast, contact Alexandra Egan via alex AT postindustrial.com!
#214 – Cellar Brewing Works
John Lasher from Cellar Works Brewing joins the Drinking Partners and starts the boys off with an American Dubbel style stout with a rustic taste. Mr. Lasher talks about his start as a home brewer and the decision to leave his job in the nuclear engineering field to open Cellar Works in the opening segment. From bottle and can design to dumping bad beer, Mr. Lasher details how Cellar Works thrives, especially with a focus on locally sourcing and maintaining their "farmhouse philosophy." Midway through, the conversation turns science and brewing-specific, leaving Ed to conclude that if he opened a brewery, it would fail. Throughout the podcast, the discussion is so in-depth and detailed that listeners will believe themselves able to get started brewing. And then the drunken wheels come off as Ed and Day let loose. An episode that true beer aficionados will love. Learn more about Cellar Works here: https://cellarworksbrewing.com.
#213 – Roundabout Brewery | Blowfish BBQ
Steve Sloan, owner and brewer for Roundabout Brewery, and Hootie (Justin Blakey) from Blowfish BBQ, join the Drinking Partners for a beer and barbeque feast in this latest release. After a brief interruption from Ed and Day as they discuss lawn maintenance, the men get down to business as both Steve and Hootie talk food and beer. The group pairs smoked brisket with a Roundabout Pilsner, which Ed and Day both admire for its clarity and taste as Steve explains the New Zealand influences behind Roundabout. Next up is a Marama IPA as Hootie gives his tips on what is essential for a BBQ starter kit and why he thinks Pittsburgh is finally ready for barbeque. The next course is a Ginga wheat accompanied by beef ribs, one of Blowfish's specialty items. This newest Drinking Partners highlights two of Pittsburgh's bests in beer and food, and listeners will want to visit both Roundabout Brewery and Blowfish BBQ after tuning in.
#212 – Chardae Jones | Matt Katase | Live from Brew Gentleman
Special episode, special beer, and special guests abound in the latest Drinking Partners release. Podcasting live from Brew Gentlemen to celebrate their 5th anniversary,
Ed and Day welcome the brewery's co-owner Matt Katase and Braddock's new mayor Chardae Jones. Ed promises to be politically correct, and Day promises to be himself as they learn about Mayor Jones's rise to become part of the "millennial mayor" association. Matt jumps into the conversation to speak on the connection between business and community and how the two must rely on each other before he expands on how Brew Gentlemen got its start during his college years. Keep listening to learn the meaning (and vibe) behind Akamai, a double IPA offering with Hawaiian history and discover how Brew Gentlemen uses a mixed culture fermentation approach for their Mise En Rose series. In the latter minutes of the podcast, the conversation remains beer-specific with Matt detailing their new offerings brewed specially for their outdoor expansion. A fun and engaging listen. Learn what is currently on tap at www.brewgentlemen.com.
To celebrate their fifth anniversary and current fundraising efforts, DS Kinsel and Thomas Agnew from Boom Conepts join the Drinking Partners. Puppet karaoke? It's a thing, and you can check it out at Boom Concepts at 6 pm on June 5. Thomas and DS explain how Boom is looking for "new spins of traditional sh*t." The interview expands to a finance-focused one midway through as the men discuss how to expand income sources before they smoothly shift to art and culture and the importance of inspiration, support, and vibe. But it isn't all serious contemplation; Ed explains why he doesn't dance. The closing segment is NSFW, Drinking Partners-style and does not need to be/cannot be described with words. Follow along with what is happening with Boom Concepts at https://www.facebook.com/boomconcepts/.
#210 – Nick Rosich | Penn Brewery
With guest host Jared Evans returning, the Drinking Partners welcome Nick Rosich, head brewer of Penn Brewery. As they sip on a Penn Gold, the award-winning classic lager, Nick shares how Penn Brewery has stayed current by expanding beyond their early, more traditional offerings. From there, the discussion of the brewing process deepens as Nick explains the importance of yeast and how he got his start at Siebel Institute, a brewing school that has existed for over a century. With that background, the interview gets technical and precise about brewing, with Drinking Partners-styled interruptions and jokes. And then Day and Jared get existential. Tune in for that abrupt shift! Catch the Drinking Partners Friday, May 17th at the Ace Hotel for a silent disco and can release featuring a Fresh Fest exclusive brew. Find out more about Penn Brewery: www.pennbrew.com.
#209 – Union Brothers Brewing
For the Drinking Partners latest release, they welcome Zach and Jeremiah from Union Brothers Brewing – Butler County's newest addition that will open XX. After tiring of waiting in line for new beer releases, the brothers decided to start brewing their own. The first half of the podcast features Zach and Jeremiah discussing what will come for Union Brothers and allows listeners a unique view at the developmental process. As the men sample a citrusy Victor Nelson, Ed states, "You guys are just dudes I want to drink with." From there, they taste the Simpleton pale ale, which features a rotating hop, and explore the trends happening in the craft beer world. Trap beer? Stay tuned to hear about the Union Brothers collaboration with Pittburgh-based rapper Hardo for Fresh Fest 2019. A smooth and exciting interview. Follow Union Brothers progress and where you can find them before their opening on Facebook: https://www.facebook.com/UnionBrothersBrewing/.
Samantha Bentley, one of Pittsburgh's funniest comedians, joins the Drinking Partners in their latest release and will have listeners laughing for over an hour. The trio jumps from topic to topic with their unique spins on everyday issues, and the conversation never fails to conclude with a magical comedic touch, even when Samantha discusses her early struggles with comedy. Ever wonder how Ed wins every argument he's in? Tune in for that answer as the comedians get personal, and Samantha shares some of her best stage moments. Perhaps the best moment is when Samantha admits to objectifying Ed, in an exchange that will be ranked as one of the Drinking Partners best. A classic, comedy-centered episode that will please every listener. To hear more from Samantha, check her out May 3rd at the Ace Hotel in her starring role at the Three Women One Mic show. For more details, visit: https://www.facebook.com/events/503944047041811/.
Ed complains as he finds himself in "third place on his own podcast" in the voice department as Aadam Soorma from Porter Craft Beer Tours joins the Drinking Partners. The early minutes center on Mr. Soorma's Cleveland roots, but transition into his job as a representative of Pittsburgh and columnist for pittsburgh.verylocal.com. From there, the talk goes to all things beer, from where, when, and how to enjoy the Pittsburgh brewery scene. And then things go off topic in very unexpected ways, as Ed and Day discuss man-dogs and muzzling babies. Yes, you read that right. As usual, the Drinking Partners double back to discuss beer and brewery flexing, with lots of pausing for laughter breaks. A fun listen that is perfect for the warmer weather and brewery visits.
#206 – Jordan Robarge | Revival Chili
In their newest podcast release, the Drinking Partners highlight Revival Chili, after they offer a hilarious examination of the business casual look. Jordan Robarge – Revival Chili's founder – speaks on his food truck's founding and mission, one that includes second chances, open hiring, and in-depth training. In addition, he talks about their expansion to include Nancy's Diner, which allows Revival to employ more people and expand their community reach. Ed and Day chow down on a spicy chicken chili, which leads to some Drinking Partners confessions. Blending both the diner and food truck, Nancy's features chili and waffles, in addition to a full menu. And BYOB, which Ed and Day take credit for as they veer off topic in their amusing ways. The interview concludes with Jordan talking about Revival's expansion and outreach plans, intermixed with more of Ed and Day's rants and raves. For more information about Nancy's Revival and Revival Chili, visit www.revivalchili.com.
The Drinking Partners welcome Jamie Warcen and Paul Schneider, owner and head brewer for Cinderlands Beer Company in their latest release. Ed promises to become a cinders expert as the men discuss how Cinderlands emerged as both a craft brewery and independent restaurant. As the men taste a strong-smelling guava coconut tart IPA, Paul explains the process behind its tropical conception; the beer leaves Ed and Day thrilled and talkative, as they are overcome by the original taste. (Very talkative as they veer into a Drinking Partners-esque rant about candy.) Midway through, Ed drops an unforgettable pause moment before the conversation returns to beer, specifically the ancient traditions of brewing and a great explanation of the differences in saisons. The interview closes with Jamie and Paul both sharing how they develop their own choices, with some hints at their recipes. With their second location opening soon in the Strip District, Cinderlands is looking to continue to make their impact known in both brewing and dining. For more info, visit www.cinderlands.com.