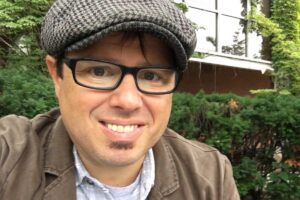 [section label="Episode" bg_color="rgb(255, 255, 255)" padding="0px" padding__sm="0px" padding__md="0px"]
[row style="collapse" h_align="center"]
[col span="7″ span__sm="12″ span__md="10″ margin="0px 0px 30px 0px"]
[/col]
[col span="7″ span__sm="12″ span__md="10″ padding="0px 0px 0 0px" margin="0px 0px 30px 0px" class="imagecaption"]
[ux_image id="19003″ image_size="original" width__sm="100″]
[/col]
[col span="7″ span__sm="12″ span__md="10″]
[title text="In today's episode:" tag_name="h4″ margin_top="0px" margin_bottom="10px" size="75″ class="todaysepisode"]
[row_inner style="collapse" class="podcastbody"]
[col_inner span__sm="12″]
This week's CitySpeaks podcast features Pittsburgh City Theatre's Director of New Play Development, Clare Drobot, in conversation with director Michael John Garcés and playwright James McManus.
Michael John Garcés has been an ensemble member at Cornerstone since 2006, where he's written plays including Magic Fruit, the "bridge" project of the multi-year Hunger Cycle which brought together the many communities of the cycle; Consequence, out of story circles with students, teachers, administrators and parents in South Kern County; Los Illegals, created in residence with communities of day laborers and domestic workers; and The Forked Path, a collaboration with Stut Theatre and the Van der Hoeven Kliniek in the Netherlands, which was performed at the Net Even Anders Festival in Utrecht and The International Community Arts Festival in Rotterdam. Directing credits at other theaters include Wrestling Jerusalem by Aaron Davidman (premiere at Intersection for the Arts; other productions include The Guthrie Theatre, Cleveland Public Theatre and Mosaic Theatre), The Arsonists by Max Frisch (Woolly Mammoth Theatre Company), District Merchants by Aaron Posner (The Folger Theatre), and Seven Spots on the Sun by Martín Zimmerman (The Theatre @ Boston Court). Michael is a recipient of the Rockwood Arts and Culture Fellowship, the Princess Grace Statue, the Alan Schneider Director Award, a TCG/New Generations Grant, the Non-Profit Excellence Award from the Center of Non-Profit Management, is a Southern California Leadership Network Fellow and a proud alumnus of New Dramatists. He serves as vice president of the executive board of SDC, the theatrical union for stage directors and choreographers.
James McManus is the author of ten plays, which have been developed and performed at La Jolla Playhouse, Cornerstone Theater Company, Labyrinth Theater Company, The Road Theatre, Dell'Arte International, Working Theater, Apothecary Theatre Company, The Clockwork Theatre, Glass Umbrella Creative (Sydney), Revolt Theatre (Melbourne), New Dramatists, The Kennedy Center, Round House Theatre, Pittsburgh Playwrights Theatre Company, The Edinburgh Festival Fringe, Barebones Productions, Irish Repertory Theatre, Son of Semele, The Side Project Theatre Company, The Lark Play Development Center and the August Wilson Center for African American Culture. James was the recipient of the Princess Grace Award in Playwriting for Cherry Smoke, which is published by Samuel French. He has also received the Helen Merrill Playwriting Award and is a proud alumnist of New Dramatists.
Thanks for listening to Pittsburgh City Theatre's CitySpeaks podcast.
[button text="Buy tickets now" link="https://citytheatrecompany.org/" target="_blank"]
[/col_inner]
[/row_inner]
[button text="BUY TICKETS" size="xsmall" link="https://citytheatre.culturaldistrict.org/production/62854/cambodian-rock-band" target="_blank" visibility="hidden"]
[button text="More Infomation" style="outline" size="xsmall" link="https://citytheatrecompany.org/play/cambodian-rock-band/" target="_blank" visibility="hidden"]
[divider width="100%" height="1px"]
[block id="14430″]
[/col]
[/row]
[/section]