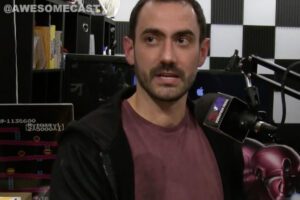 [section label="Episode" bg_color="rgb(255, 255, 255)" padding="0px" padding__sm="0px" padding__md="0px"]
[row style="collapse" h_align="center"]
[col span="7″ span__sm="12″ span__md="10″ margin="0px 0px 30px 0px"]
[/col]
[col span="7″ span__sm="12″ span__md="10″ padding="0px 0px 0 0px" margin="0px 0px 30px 0px" class="imagecaption"]
[ux_image id="15990″ image_size="original" width__sm="100″]
Matt Stroud
[/col]
[col span="7″ span__sm="12″ span__md="10″]
[title text="In today's episode:" tag_name="h4″ margin_top="0px" margin_bottom="10px" size="75″ class="todaysepisode"]
[row_inner style="collapse" class="podcastbody"]
[col_inner span__sm="12″]
We are back talking tech with Sorg, Chilla, and our guests Matt Stroud and Alex Egan from PostIndustrial!
Sorg is talking his latest obsession Mario Kart Tour
We talk about the recent access to retro games including the latest Internet Archive releases of classic MS-DOS video games.
Chilla is talking bout the Google Nest WiFi with Google Home speaker support.
We dive into the latest ways Chilla is using his home automation with Alexa to help keep his child in check.
We talk with Matt and Alex about PostIndustrial, the Pittsburgh Record Podcast and more!
[/col_inner]
[/row_inner]
[divider width="100%" height="1px"]
[block id="11742″]
[/col]
[/row]
[/section]